WTT Contender Almaty 2023: Ibrahima Diaw and Youssef Abdel-Aziz faced off
Posted : 30 August 2023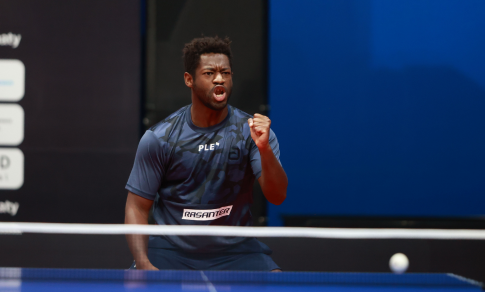 The action is officially underway in Almaty, and the opening day of qualifiers at WTT Contender Almaty 2023 proved to be a riveting showcase of determination as players pushed their limits to advance closer to the main draw.
 
One of the captivating duels of Tuesday unfolded in the Men's Singles Qualifying round 1, where Ibrahima Diaw and Youssef Abdel-Aziz, two fierce competitors hailing from the African continent, engaged in an exhilarating clash. In a five-game thriller, Diaw emerged victorious after overcoming a shaky start (6-11, 7-11, 11-8, 13-11, 11-8).
 
With a world ranking of 88th, Diaw has showcased his prowess on the international circuit, achieving notable progress at various ranking events. Notably, he reached the round of 16 at his personal best WTT Series performance in WTT Contender Tunis 2021.
 
However, Diaw faced an uphill battle in his opening match in Almaty against a fired-up Abdel-Aziz. The Egyptian player, ranked 123rd globally, commanded the early phases of the contest, strategically maneuvering Diaw and capitalizing on his errors. Abdel-Aziz extended his lead to 2-0, demonstrating both control and composure.
 
Facing a two-game deficit in a best-of-five encounter, Diaw was akin to a boxer seeking a pivotal knockout. With no room for retreat, he intensified his efforts, elevating his precision and execution. This adjustment yielded positive results as Diaw fought back, reducing the margin. The turning point came as Diaw thwarted a match point at 10-11 in the fourth game, propelling the match to a climactic decider. Ultimately, Diaw displayed a nerve-wracking performance in the final game, securing victory from the jaws of defeat.
 
Dastan Kenzhigulov, too, scripted a late-game resurgence in his match. In a parallel display of determination, Kenzhigulov mirrored Diaw's feat by mounting a comeback against Vladislav Zakharov (7-11, 8-11, 13-11, 11-9, 11-9).
 
Zakharov, ranked 284th globally, initially appeared poised to secure a spot in the second qualifying round, building a solid lead against his Kazakh compatriot. However, Kenzhigulov defied the odds, displaying unwavering confidence and a steadfast belief in his abilities. This resolve paved the way for a remarkable comeback victory on his home turf, underscoring his determination and resilience.
 
The opening day's battles not only showcased exceptional skill but also highlighted the tenacity and spirit that define the essence of competitive sports. As players continue their quest in the journey ahead, their performances epitomize the dedication and passion that make these contests truly inspiring.