US Open: Novak Djokovic and Carlos Alcaraz engage in intense rivalry
Posted : 28 August 2023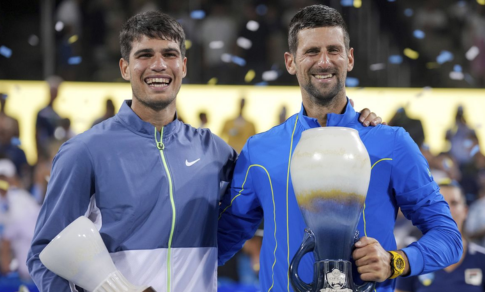 Novak Djokovic's anticipation for the US Open intensifies as he discussed his burgeoning rivalry with Carlos Alcaraz. Despite Alcaraz's youth, Djokovic is not ready to step aside, and the duo has engaged in three exhilarating clashes in 2023. Their recent showdown at the Cincinnati Masters final showcased their competitive spirit.
 
With the US Open approaching, Djokovic is eager for another thrilling encounter with Alcaraz. Their history includes scintillating clashes that have captivated fans and etched their names into tennis folklore. Their first battle took place at Roland Garros, where Alcaraz's cramp led to his defeat in a four-set semi-final.
 
However, Djokovic turned the tables with a spectacular five-set victory over Alcaraz in this year's Wimbledon final, marking his triumph at the prestigious All England Club. Another showdown occurred at the Cincinnati Masters, where Djokovic emerged victorious in a best-of-three-sets final, securing the last two sets through tie-breaks.
 
Although Djokovic humorously brushed off the notion of competing with the 20-year-old Alcaraz for the next decade, he remains committed to maintaining a high level of play. He reflected on their epic encounters at Roland Garros, Wimbledon, and Cincinnati, describing them as physically demanding yet thrilling and closely contested matches. Djokovic acknowledges the fans' desire for a compelling rivalry between top players.
 
As the US Open approaches, Djokovic's excitement grows. He views the Arthur Ashe Stadium, with a capacity of over 23,000, as a venue with a fantastic atmosphere. Djokovic's absence from New York for the past two years due to Covid-19 restrictions adds to his eagerness to return. He anticipates a vibrant energy and vibrant vibe in the iconic stadium, emphasizing the unique experience of playing and watching matches during night sessions.