US Open champion Alcaraz advances to third round, faces Evans
Posted : 01 September 2023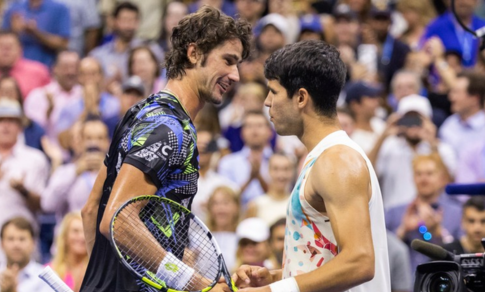 Reigning US Open champion Carlos Alcaraz secured a straight-sets victory over Lloyd Harris to advance to the third round. Despite the routine scoreline of 6-3, 6-1, 7-6(4) in favor of Alcaraz, the Spaniard faced significant pressure on his serve, saving nine of the ten break points against him. Alcaraz now prepares for a challenging third-round match against Great Britain's Dan Evans.
 
While Alcaraz comfortably claimed the first two sets, the third set saw him fall behind with a break. However, he managed to recover and secure the set in a tie-break. Alcaraz expressed satisfaction with his performance, particularly highlighting his strong play in the second set.
 
The 20-year-old Wimbledon champion aims to become the first player since Roger Federer from 2004-2008 to successfully defend the US Open title. Last year, Alcaraz clinched his first major title at Flushing Meadows.
 
Harris, ranked 177th in the world, posed questions for Alcaraz, matching him in break point opportunities and delivering six aces compared to Alcaraz's four. Still, he couldn't take a set from the defending champion.
 
Alcaraz spoke about the competitive third set, mentioning a crucial break and recovery after going a break down. He emphasized the importance of securing another straight-sets victory in the early rounds.
 
In the next round, Alcaraz faces a tough challenge from Dan Evans, known for his strong serve-and-volley game. Alcaraz recognized the need for excellent returning to succeed in this match.
 
In another late match, third seed Daniil Medvedev advanced with a win over Christopher O'Connell, setting up a third-round encounter with Sebastian Baez.