"US Open 2023: Medvedev battles extreme heat to reach semi-finals, sets up showdown with Alcaraz
Posted : 07 September 2023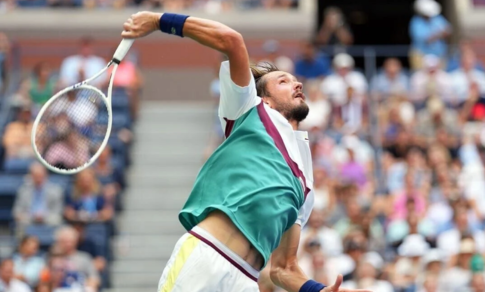 Daniil Medvedev secured a spot in the US Open semi-finals, battling through scorching and humid conditions that he likened to a player's nightmare. Despite visible struggles with his breathing, the third-seeded Russian triumphed over compatriot Andrey Rublev with a scoreline of 6-4, 6-3, 6-4 on Wednesday.

During the match in New York, Medvedev made a candid comment into a camera, saying, "One player is going to die, and you are going to see." His next opponent will be Carlos Alcaraz, the defending champion, who defeated Alexander Zverev 6-3, 6-2, 6-4.

The match between Medvedev and Rublev unfolded under a partially closed roof on one of the hottest days of the tournament, with temperatures soaring to around 35°C. Both players visibly struggled with the extreme conditions, with Medvedev drawing parallels to the brutal Tokyo Olympics weather in 2021.

The intense heat forced both players to take extended bathroom breaks between sets to seek relief from the scorching heat and change their sweat-soaked attire. They resorted to dousing themselves with cold water, sitting under ice towels, and making use of air conditioning units at their seats.

Medvedev expressed the challenges they faced, noting, "At the end of the first set, I couldn't see the ball anymore. I played with sensations - trying to go for it, trying to run, trying to catch the balls - and he did the same sometimes."

While Medvedev has previously contested four Grand Slam finals, Rublev, aged 25, is still vying for his first major semi-final appearance. Despite being friends since the age of six and Rublev being the godfather to Medvedev's daughter, the former has yet to secure a breakthrough in Grand Slam quarter-finals, having lost all nine he's played.

Despite the difficulties, Medvedev overcame the challenges posed by Rublev, securing the crucial breaks when needed and ultimately clinching the victory after four match points.

In the upcoming semi-finals, Novak Djokovic, the Serb second seed pursuing a record-equalling 24th major title, will face young American Ben Shelton in the first match at 15:00 local time (20:00 BST).

The anticipated semi-finalists, Alcaraz and Djokovic, both appear poised to compete in Sunday's final, with Alcaraz winning last year's title in Djokovic's absence due to vaccination issues. The two players, who previously engaged in an enthralling Wimbledon final that Alcaraz won, now stand one step away from another showdown.

In Alcaraz's victory over Zverev, he displayed his resilience, saving break points and securing crucial breaks to advance to his third major semi-final of the season. Despite the oppressive conditions and Zverev's physical concerns, Alcaraz's determination shone through.

With these developments, the stage is set for thrilling semi-final clashes at the US Open, with players battling not only their opponents but also the sweltering New York heat.