Team world dominates, defends Laver Cup title with convincing 13-2 victory over Team Europe
Posted : 25 September 2023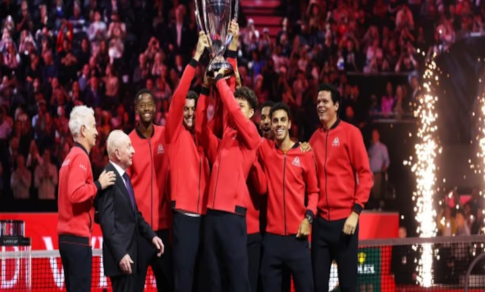 Just two years ago, Team World suffered a crushing 14-1 defeat to Team Europe in the Laver Cup. However, the tides have now turned dramatically, with John McEnroe's team successfully defending their title with a resounding 13-2 victory in Canada.

The pivotal moment came in the opening doubles match on Sunday, where Frances Tiafoe and Ben Shelton secured the decisive point by overcoming Hubert Hurkacz and Andrey Rublev.

Team World's defense of their Laver Cup crown was nothing short of dominant, culminating in a 13-2 triumph over Team Europe. The defending champions entered the court on Sunday knowing that a single victory from the four scheduled matches would suffice.

Frances Tiafoe and Ben Shelton rose to the occasion, clinching victory in two closely contested tie-breaks during the doubles match to secure the title.

The doubles showdown featured Hubert Hurkacz and Andrey Rublev, representing Team Europe, facing off against the American duo of Shelton and Tiafoe, who were proudly representing Team World at Rogers Arena in Vancouver. John McEnroe's team began the day with a substantial 10-2 lead after Shelton and Felix Auger-Aliassime had previously defeated Hurkacz and Gael Monfils.

Team Europe had initially dominated the Laver Cup, winning the first four editions of the tournament—a competition co-established by Swiss legend Roger Federer. However, the momentum shifted in favor of Team World, who have now secured the last two titles.

The two pairs displayed remarkable competitiveness throughout the first set, with an exceptional forehand from Rublev at 5-4 ensuring that Team Europe remained in contention.

Nevertheless, they were unable to convert either of the two break points that came their way. The first set ultimately required a tie-break, which Shelton and Tiafoe claimed, putting them one step closer to winning both the match and the tournament.

In the second set, Team Europe found themselves at 6-5, serving to stay in the competition. They managed to force a tie-break, raising hopes of a comeback. However, Shelton and Tiafoe once again emerged victorious in the tie-break, solidifying Team World's unassailable lead at 13-2.