Novak Djokovic wins Cincinnati's longest best-of-three final, a marathon
Posted : 21 August 2023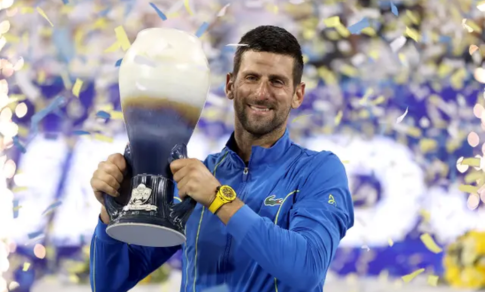 In a compelling rematch following his Wimbledon defeat a month earlier, Novak Djokovic found redemption against Carlos Alcaraz in a thrilling Cincinnati final. The Serbian secured a hard-fought victory with a score of 7-5, 6-7 (7), 6-7 (4) after a marathon 3 hours and 49 minutes on the court. This encounter marked the longest best-of-three final in the history of the ATP Tour.
 
Djokovic not only avenged his Wimbledon loss but also claimed his 95th career title, solidifying his status as a tennis legend. This achievement propelled him to third place in the all-time rankings, trailing only Jimmy Connors (109) and Roger Federer (103). Remarkably, this triumph came in his first U.S. tournament appearance in two years due to pandemic-related restrictions.
 
Reflecting on the intense match, Djokovic expressed, "It was one of the most exciting matches I've ever played in any tournament." He acknowledged the magnitude of the battle and admitted that he was somewhat drained by the end. During the trophy ceremony, he praised Alcaraz's tenacity, stating, "You never give up, do you? I love it about you. I hope we meet in New York. It will be fun. For the fans, not for me."
 
Alcaraz, who had competed in four tiebreakers in Cincinnati over the past week, showcased his resilience despite his loss. He maintained a positive outlook and humorously remarked, "I'll be back." Notably, Djokovic had not dropped a set leading up to this final, showcasing his dominance throughout the tournament.
 
In the women's category, 19-year-old Coco Gauff clinched the title by defeating Karolina Muchova with a score of 3-6, 4-6. Gauff's victory marked her third title of the year, a notable achievement for the young talent. She also made history by becoming the first teenager to achieve such a feat since Bianca Andreescu in 2019.
 
Gauff's triumph resonated with significance as she became the fourth American to win the Cincinnati tournament, following in the footsteps of Lindsay Davenport, Serena Williams, and Madison Keys. With this victory, Gauff is set to rise to sixth place in the world rankings, and her elation was evident as she exclaimed, "It's unbelievable. I've been waiting so much for this moment."