Novak Djokovic secures historic 24th Grand Slam title with US Open victory
Posted : 11 September 2023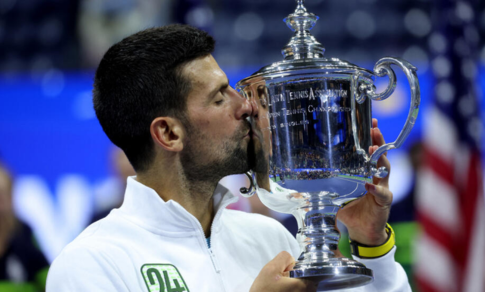 Once again, Novak Djokovic showcased his unparalleled Grand Slam prowess as he clinched his fourth US Open title with a triumphant 3-6, 6-7 (5), 3-6 victory over Daniil Medvedev. At 36 years old and in peak form, Djokovic delivered another memorable performance to secure his 24th career major title. This remarkable achievement places him above Rafael Nadal and Roger Federer in the Grand Slam records.

Nadal, with 22 major titles, and Federer, with 20, now trail behind Djokovic. With Nadal sidelined due to injury and Federer retired, Djokovic has asserted his dominance in the world of tennis. He also etched his name in history as the player with the most Grand Slam titles in the Open Era, surpassing Serena Williams' 23 titles. Only Margaret Court, who achieved most of her victories in the 1960s, remains at the top with 24 wins.

This year has been exceptional for Djokovic, reaching all four Grand Slam finals for the third time in his career and winning three of them, only narrowly missing out on Wimbledon. In contrast, Nadal has never achieved this feat. Djokovic's fourth triple Grand Slam year (previously accomplished in 2011, 2015, and 2021) solidifies his position as one of the greatest tennis players of all time. To celebrate his 24th victory, Djokovic sported a shirt featuring a picture of himself alongside the legendary number 24, worn by the late Kobe Bryant.

Interestingly, the US Open was previously considered Djokovic's Achilles' heel. Of the nine finals he reached at this tournament, he had only won three, with his last victory in 2018 against Juan Martín del Potro. Djokovic's 2020 disqualification for hitting a ball that struck a line judge and his absence from the 2021 event due to his COVID-19 vaccination stance added to his challenges. However, he has now triumphed once again in New York, setting yet another record in his illustrious career.

As for Medvedev, despite a fantastic tournament, including eliminating No. 1 and 2022 champion Carlos Alcaraz in the semifinals, he could only offer praise in the face of Djokovic's dominance. In 2021, at the same venue, Medvedev defeated Djokovic in straight sets to claim his first Grand Slam title and thwart Djokovic's calendar Grand Slam dream. This time around, it was Djokovic who emerged victorious, securing his revenge.

Djokovic made a strong start, breaking Medvedev's serve in the Russian's opening game. He continued his dominance, taking a quick 0-3 lead. Although Medvedev managed to get on the scoreboard in the fourth game, Djokovic remained in control, securing a 3-6 win in the first set.

The second set featured lengthy rallies and tactical play from both players. The eighth game was particularly grueling, lasting over 12 minutes, with Medvedev unable to capitalize on his break point. Djokovic eventually won the set in a tiebreaker, edging Medvedev 5-7.

In the third set, three consecutive breaks, including two by Djokovic, propelled the Serbian to a crucial 2-4 lead. Djokovic maintained his serve until the end, sealing a 3-6 victory to claim the entire match.