Novak Djokovic faces Carlos Alcaraz in Cincinnati Open final, revenge in mind
Posted : 20 August 2023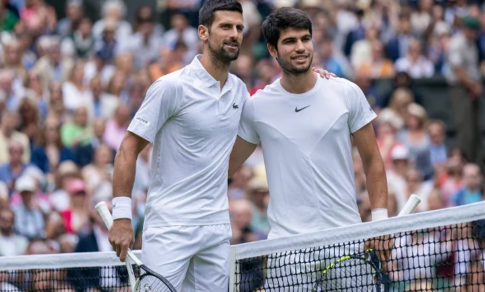 Novak Djokovic is set to face Carlos Alcaraz in the Cincinnati Open final, offering him an opportunity to seek revenge for his defeat to Alcaraz in the Wimbledon final.
 
In the semi-finals, world number one Alcaraz displayed remarkable resilience by saving a match point against Poland's Hubert Hurkacz, eventually triumphing with a scoreline of 2-6, 7-6 (7-4), 6-3.
 
Following suit, world number two Djokovic emerged victorious against Germany's Alexander Zverev, securing his spot in the final with a 7-6 (7-5), 7-5 win.
 
Djokovic expressed his anticipation for the upcoming match, stating that facing Alcaraz is currently the ultimate challenge for him. Alcaraz, a 20-year-old Spaniard, previously defeated Djokovic in a five-set Wimbledon final and holds a favorable record of two wins out of their three encounters.
 
Djokovic highlighted the significance of this test before the US Open, acknowledging the different conditions of the hard court. He emphasized the magnitude of facing the world's top player in form and conveyed his eagerness to take on this substantial challenge.
 
Alcaraz's victory against Hurkacz marks his eighth final appearance in 2023, showcasing his consistent form. Additionally, he has become the youngest finalist at the Cincinnati Open since a 19-year-old Pete Sampras in 1991.
 
At the age of 36, Djokovic is on the brink of becoming the oldest Cincinnati champion in the Open Era, with Ken Rosewall achieving the feat at 35 in 1970. Djokovic has previously clinched the Cincinnati title twice, in 2018 and 2020.
 
Having missed several tournaments, including the 2022 US Open, due to his Covid vaccination status, Djokovic is competing in his first American soil tournament since 2021. He will now prepare to pursue his 24th Grand Slam title at the upcoming US Open, commencing on August 28th.