Nigeria's Wheelchair Tennis team shines at 2023 Para Games in Ghana
Posted : 07 September 2023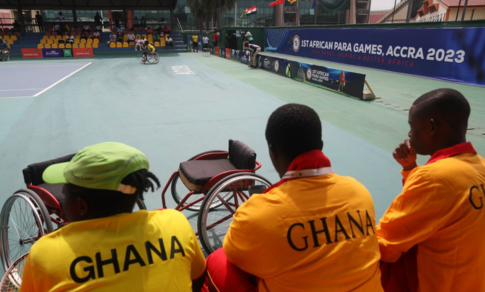 The Nigeria Wheelchair Tennis team, the sole sport sponsored by the Federal Ministry of Sports Development, is proudly representing Nigeria at the 2023 Para Games in Ghana. In the women's category, African number two female player, Foluke Shittu, and Kafayat Omisore are the talented representatives, while in the men's category, it's Williams Ukari and Alex Oluwadamilare.

The capable Nigeria Wheelchair Tennis team is under the guidance of Frank Termena, the Head Coach of the Nigeria Tennis Federation (NTF).

In an impressive start to the competition, William Ukari secured a victory over Egypt's Elrahman Salah with a score of 2-0 (6-4, 6-4), while Alex Oluwadamilare triumphed over Hassan Emad with a 2-0 (6-2, 6-2) win, both earning spots in the quarterfinals.

The upcoming quarterfinal matches promise intense competition. William Ukari is set to face South Africa's Alwande Sikhosana, ranked African number 1, in the men's category. Meanwhile, African number 4 Leon Els of South Africa will challenge Alex Oluwadamilare.

On the women's side, African number two, Foluke Shittu, from Nigeria, will go head-to-head with Stacy Mensah of Ghana, while Kafayat Omisore, also ranked African number four, will compete against Bridget Nartey of Ghana.

The African Para Games Tennis Tournament will continue from September 6th to 10th, 2023, with high expectations for Nigeria's Wheelchair Tennis team.