Nigeria's Quadri crowned Africa's best in 2023 ITTF
Posted : 17 September 2023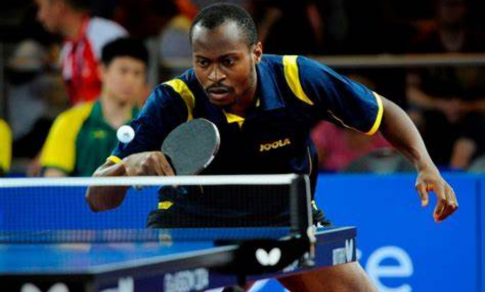 Nigeria's Aruna Quadri has successfully defended the Africa Senior Championship, after defeating Ahmed Saleh 4-0 (11-2, 12-10, 11-6, 11-6) in the men's singles final on Sunday.

The number one ranked African player earlier entered the chat in style, leaving no stone unturned in defeating compatriot Olajide Omotayo with a commanding 4-0 victory (12-10, 11-6, 11-9, 11-2) to advance to the final, while Saleh recovered from a 0-2 game deficit to outclass Idowu Saheed 4-2 (12-14, 8-11, 11-8, 11-8, 11-8, 11-7) in the second men's singles semi-final to set up the final matchup.

The 35-year-old who is the first African player to be ranked top 10 in the world, won the second goal medal for Nigeria rounded off today after Nigeria won it's first gold medal on Saturday through the pair of Olufunke Oshonaike and Fatima Bello, achieved the feat by defeating Cameroon's Sarah Hanffou and Alhodaby Mariam of Egypt 3-2 (11-6, 8-11,11-4, 7-11, 12-10) in the women's doubles final at Salle Omnisport de Rades.

Sensational 15-year-old, Hana Goda won gold and emerged as the women's singles champion of the 2023 Africa Senior Championships recording a 4-1 (11-7, 11-4, 13-11, 8-11, 11-4) win over Dina Meshref in the final.

The thrilling encounter was a rematch between Meshref and Goda, who shared her excitement on winning her maiden African Senior Championships in a post-match interview saying: "It is crazy and I'm very happy."

The championships started on September 11 and rounded off today at the Salle Omnisport de Rades.