I can't be forced into retirement when not ready - Nigeria's Table tennis queen, Oshonaike bombs critics
Posted : 23 September 2023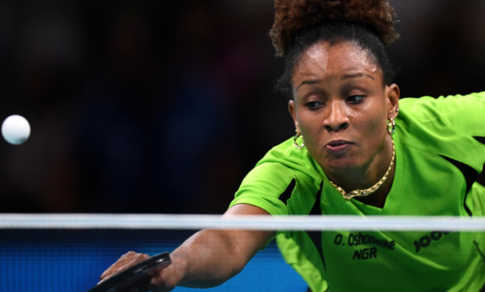 49-year-old Veteran Nigeria's table tennis sensation Olufunke Oshonaike has hit back at critics who claim she is preventing younger players from representing the country and should call time on her career.

At 49, the Bariga, Lagos-born player is the most successful Nigerian player at the recently concluded 2023 ITTF African Senior Championships in Rades, Tunisia, where she won one gold and two silver medals. 

She also won women's doubles with Fatima Bello and silver in the mixed doubles title with Olajide Omotayo.

In a long post on her Facebook page earlier, Oshonaike, who holds the record as the first African woman to make eight appearances in the Olympic Games, took her critics to the cleaners, saying she will keep representing the country for as long as she is fit and winning laurels for the country.

She added that Nigeria doesn't have a younger, better Funke for now, and that she was looking for a 16 or 17-year-old that's better than her.

The post read, "Sorry, I've not been able to comment on my posts lately. I've been back to school immediately and am still battling with anatomy and physiology.

"To all of you that are not happy that I am still playing table tennis at 49 years old and still good at it, I am sorry.

"But remember, God gave me this talent, and I am working hard every day to be better and stronger, even though sometimes it all hurts so much!

"Apologies to some of you that are still thinking that I might be stopping the younger ones from playing for Nigeria. I don't know how that one makes sense to you, but I am still sorry that I am still good at my age and still winning medals for my country, Nigeria.

"Table tennis is an individual event, and I ain't stopping anybody from defeating me or representing Nigeria. But unfortunately, we don't have a younger, better Funke for now. I am still looking for a 16- or 17-year-old who's better than me.

"For some of you that are saying that I should stop when the ovation is loud or high, I don't understand that English, though. 

``I will surely stop when my body cannot carry me again or when I am no longer having fun with table tennis. If any younger ones defeat me now, it's ok for me because that's improvement and I have nothing to lose. I've been there and done that, so it hurts no more like that.

``Thank God I didn't listen to all you naysayers, because if I had, I wouldn't have won three medals for my beloved country, Nigeria, last week at the African Championship in Tunisia. I won a gold medal (which I haven't won for a long time) and two silver medals for Nigeria. I was even very close to qualifying for the Olympics in 2024.

"Thanks to all my critics and the naysayers. You make me work harder and more stubbornly towards my dream.

"To all my supporters and fans all over the world: I just want to say a big thank you to you all. You all put a big smile on my face. Eniyan l'aso mi (you are all my clothes). I am grateful.

"Special thanks to the giver of my talent, my God, my creator, my joy giver, my waymaker, and my miracle-working God. I am nothing without you.

"I love you all, and I need more love too.

"Live and let live. Impossibility is nothing. Follow your dreams and believe in God and yourself.

"Happy weekend."

Oshonaike started her playing career on a street called Akeju Street in Shomolu, Lagos, in the early 1980s while very young.

She was a spectacle each time she played because she was very small and used to amaze people with her skill at that early age.