Fokina faces Novak Djokovic in Cincinnati Open's second round
Posted : 16 August 2023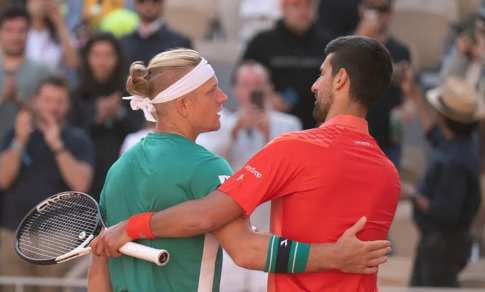 Alejandro Davidovich Fokina is set to challenge Novak Djokovic in the second round of the Cincinnati Open on Wednesday evening. This encounter marks their fifth meeting on the ATP Tour, with Djokovic holding a 3-1 lead in their head-to-head clashes. Despite this, Davidovich Fokina draws inspiration from his victory over the 23-time Grand Slam champion in Monte-Carlo last year and believes he has uncovered the formula to conquer Djokovic.
 
Davidovich Fokina expresses confidence in his ability to overcome Novak Djokovic. Their upcoming match in Cincinnati will be the latest chapter in their rivalry, with Djokovic having secured a recent victory at Roland-Garros this year, triumphing 7-6(4), 7-6(5), 6-2. However, in their previous encounter in Monte Carlo, the Spanish player defeated the world No. 2 with a score of 6-3, 5-7(5), 6-1 during the round of 32.
 
The Spaniard acknowledges the significance of a potential win against Djokovic in Ohio, describing it as a "dream" accomplishment. He shares with the ATP's official website: "I wanted to one day play against him and obviously, if I can beat him, for me it would have been a dream. I think it is the same now. If I can win this match [on Wednesday], for me it's a dream because in the end you don't win against these guys every day." He continues, "I know that it's going to be Djokovic next and it's going to be a very, very tough match. But I think I'm prepared now to face him and to try to beat him."
 
Aware of the challenges posed by Djokovic, Davidovich Fokina comments on the Serbian player's exceptional qualities, likening him to a blend of Rafael Nadal and Roger Federer's strengths.

He notes, "He has everything of Rafa [Nadal] and [Roger] Federer. His body is so elastic and he can be very, very solid and he has the weapons to push you to make errors. Then he has winners. He's very good serving. But the key of his is that he sees the match very good. The moment of the match, he knows how to [judge what he needs to do] very good."
 
Reflecting on their past encounter in Monte Carlo, Davidovich Fokina recalls his approach to breaking down Djokovic's game. He shares, "I remember that I was dominating him very good. And in the middle of the second set, he broke me back. When he won the second set, he was on fire. But I just was [focused] on being on court, to play against him and to be focused on every ball. I think that the key to win was to be focused in every point. It doesn't matter the result, you forget about the result. You have to play against him because at the end, he's a legend. And you don't play every day with these types of guys."