Djokovic's journey to Tennis history: A recap of his 24 Grand Slam titles and record-breaking success
Posted : 11 September 2023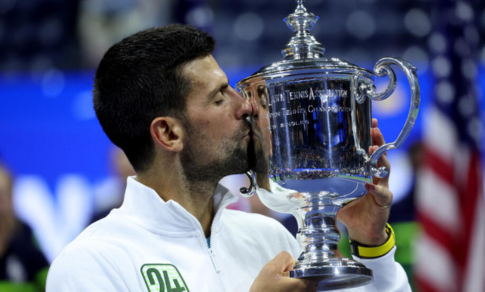 Novak Djokovic, the Serbian tennis phenom, secured his record-breaking 24th Grand Slam title with a victory over Daniil Medvedev in the US Open final. This achievement surpasses Rafael Nadal's 22 and Roger Federer's 20 major titles, firmly establishing Djokovic as the most successful male player in terms of Grand Slam victories. Moreover, he broke Serena Williams' record for the most majors in tennis history.

Djokovic's journey to this historic achievement began at the age of 20 when he won his first Grand Slam title at the Australian Open, defeating Roger Federer in the semifinals and then Joe-Wilfred Tsonga in the final. In 2011, he solidified his status as a dominant force in tennis by winning the Australian Open and defeating Andy Murray in the final.

One of Djokovic's most memorable moments came in the 2012 Australian Open final, where he faced Rafael Nadal in a grueling five-hour, 53-minute battle, ultimately emerging victorious. He continued his success at the Wimbledon Championships in 2014, beating Federer in a thrilling final.

In 2015, Djokovic had another outstanding year, securing the Australian Open title by defeating Murray in the final. This marked the beginning of his double-digit Grand Slam victories. In the same year, he reached all four Grand Slam finals, a feat achieved only by Rod Laver and Federer.

Djokovic's dominance in Australia continued in 2016, as he defended his title by defeating Murray once again in the final. In 2016, he also achieved the remarkable feat of holding all four major titles simultaneously, securing his place in tennis history.

After a period of setbacks and challenges, Djokovic made a triumphant comeback at the 2018 Wimbledon Championships, defeating Nadal in a dramatic semifinal and Kevin Anderson in the final. He continued his Grand Slam success by winning the 2019 Australian Open.

In 2021, Djokovic faced challenges during the Australian Open but displayed his resilience by coming back from two sets down twice to secure the title, defeating Stefanos Tsitsipas in the final. He followed this with a victory at Wimbledon, where he equaled Federer and Nadal's Grand Slam record.

In 2022, Djokovic faced Nadal in a thrilling Roland Garros quarterfinal, but Nadal emerged victorious. Djokovic went on to win Wimbledon, retaining his title from the previous year. This victory marked his 23rd Grand Slam title, breaking the tie with Nadal and establishing him as the all-time record holder in the Open Era.

Djokovic's journey to this historic 24th Grand Slam title continued at the US Open, where he defeated Daniil Medvedev in the final. This victory solidified his status as the tennis player with the most Grand Slam titles in history. Djokovic's remarkable career continues, leaving tennis fans eager to see what he will achieve next.