Djokovic opens US Open campaign with commanding victory: Eyes record 24th Grand Slam title and no. 1 ranking
Posted : 29 August 2023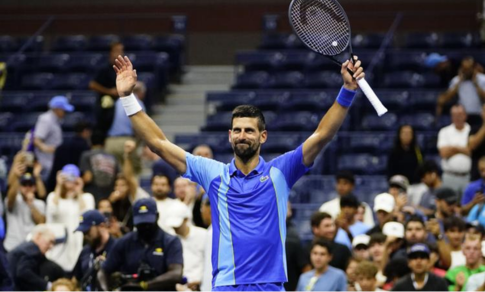 As the 2023 US Open unfolds, Novak Djokovic finds himself facing a convergence of monumental milestones. The stakes are high—tied to a potential record-tying 24th Grand Slam singles title, a fourth US Open championship, and the coveted world No. 1 ranking—a distinction he already secured with a triumph on Monday evening.
 
Throughout his storied career, Djokovic has displayed a remarkable ability to thrive under pressure, and this night was no exception. The No. 2 seed embarked on his latest journey toward tennis immortality with a masterful performance, dispatching Alexandre Muller with an emphatic score of 6-0, 6-2, 6-3 under the gleaming lights of Arthur Ashe Stadium, marking his advancement to the second round.
 
This encounter marked Djokovic's return to the US Open stage since the 2021 men's singles final against Daniil Medvedev, where he narrowly missed achieving the elusive calendar-year Grand Slam—a feat not accomplished since Rod Laver's historic feat in 1969.
 
Reflecting on that poignant moment, Djokovic recalled the overwhelming emotion he felt, acknowledging the unwavering support of the fans for his extraordinary efforts. Following his resounding victory over Muller, Djokovic expressed his gratitude for the crowd's continued backing, the triumph itself, and the opportunity to once again grace the New York arena.
 
"It's always a pleasure and an honor to play on Arthur Ashe [Stadium]," Djokovic stated during his on-court interview, appreciating the chance to reconnect with the audience after a couple of years.
 
The match commenced post 11 p.m., following Coco Gauff's hard-fought triumph over Laura Siegemund and a commemorative ceremony celebrating Billie Jean King and 50 years of equal prize money at the US Open. With efficiency, Djokovic quickly seized control, securing a break in the opening game and navigating the first set in a mere 23 minutes.
 
Djokovic's dominance persisted through the second and third sets, with the Serbian maestro exhibiting impeccable ball striking and control over the match dynamics. Muller struggled to find a foothold against his indomitable opponent.
 
In totality, Djokovic tallied 32 winners against 23 unforced errors, capitalizing on 7 of 12 break-point opportunities and conceding only 11 winners from Muller.
 
Assessing his performance, Djokovic humbly acknowledged his steady play, remarking, "I think I played great from the beginning to the end. Some hiccups, but I like the level. Hopefully, I can maintain it in the next round as well."
 
This victory contributes to Djokovic's remarkable form, boasting a 19-1 record in his last 20 matches. This remarkable streak encompasses his 23rd major title at the French Open, a Wimbledon final appearance, and a triumphant title at the Cincinnati Open. With this victory, Djokovic is assured of regaining the No. 1 world ranking when the next ATP rankings are released in two weeks, extending his record-breaking reign at the pinnacle of tennis.
 
Furthermore, Djokovic's quest for Grand Slam glory and tennis immortality continues, as he sets his sights on matching Margaret Court's legendary 24 Grand Slam titles and capturing his fourth US Open crown. These aspirations would place him in esteemed company, standing alongside John McEnroe and Rafael Nadal as Open Era champions.
 
Looking ahead, Djokovic's second-round opponent is world No. 76 Bernabe Zapata Miralles, a newcomer to their tour matchups, heightening the anticipation of their upcoming clash.