Coco Gauff's US Open victory: A triumph of talent and responsibility
Posted : 10 September 2023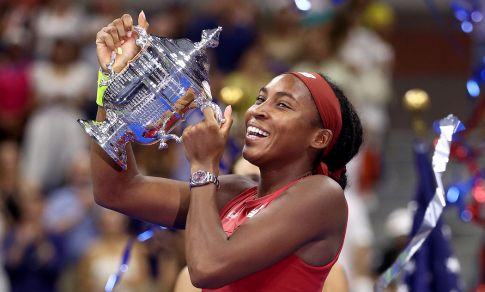 At the age of 15, Coco Gauff faced immense expectations, but her U.S. Open victory is a triumphant moment four years in the making. With this win, she now carries the responsibility of filling the void left by the Williams sisters and serving as a role model for the next generation of female athletes.

While the world focuses on athletes from Ukraine facing the challenges of competing amid conflict, it's important to note that Russian and Belarusian athletes also contend with difficult circumstances. They represent countries ruled by oppressive regimes, sometimes resulting in suspensions from competitions and competing without national flags. Aryna Sabalenka, in particular, has expressed her opposition to the war and her disdain for Belarusian leader Alexander Lukashenko.

Sabalenka, who recently won the Australian Open and will soon become world number one, faced Coco Goff in the US Open final. Goff received overwhelming support from the home crowd, especially after a powerful first set. However, Goff's athleticism and resilience shone through as she returned Sabalenka's shots with precision, forcing her opponent into difficult situations.

Despite her emotional intensity, Sabalenka fought valiantly but struggled to finish points, as Goff's returns demanded multiple winners per point. Goff's victory at the US Open not only signifies her first Grand Slam title but also marks a turning point in her career, as she continues to mature as a player.

Coco Goff's success is not just about winning another Grand Slam; it's about her ability to handle fame and expectations at a young age. Unlike some young players who may burn out or lose their focus, Goff maintains a grounded approach to her sport. Growing up with athlete parents, she has been nurtured in a professional environment that keeps her humble and focused.

Furthermore, Goff is not only a tennis prodigy but also a socially aware individual. She has used her platform to address important issues in the United States, such as gun control and reproductive rights. Now, with the retirement of Serena Williams and Venus Williams approaching, Goff is poised to become a role model for the next generation of female tennis players, all before turning 20.

Coco Goff's victory at the US Open signifies much more than a personal achievement; it symbolizes a new era in women's tennis. As she accepted her three-million-dollar prize, she paid homage to Billie Jean King for her role in equalizing prize money for men and women at the U.S. Open. Goff's triumph is a testament to her ability to meet and even exceed the sky-high expectations placed upon her, making it a sigh of relief and a moment of sporting magic.