Coco Gauff wins Cincinnati Open title, defeating Muchova
Posted : 21 August 2023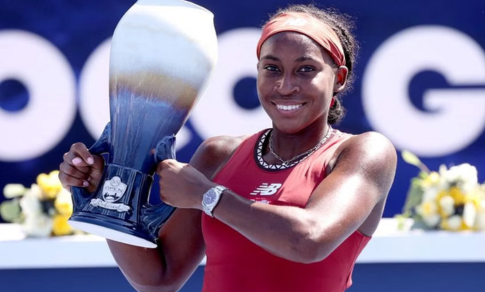 Coco Gauff triumphed at the Western & Southern Open in Cincinnati, securing the biggest title of her career with a 6-3, 6-4 victory over Karolina Muchova in front of an enthusiastic crowd. The win marked a significant milestone for the 19-year-old American, who became the first teenage champion at the event since 1968. Gauff's victory here adds to her recent success, having also clinched the title in Washington, D.C. merely two weeks ago.
 
Reflecting on her journey, Gauff acknowledged the challenges she faced earlier in the summer, particularly her early exit from Wimbledon. She harnessed this experience to reevaluate her approach, aided by the guidance of new coaches Brad Gilbert, Pere Riba, and Jarmere Jenkins.
 
With a proactive game strategy and effective service returns, Gauff dominated the second set after taking the first. Although she missed a couple of match points at 5-2, she capitalized on her third opportunity at 5-4, adapting her mentality to secure victory on Muchova's wide forehand return error.
 
Gauff's triumph was highlighted by her breakthrough win over world No. 1 Iga Swiatek in the semifinals, a player she had previously lost to in seven matches. Gauff's victory also propelled her to the WTA top 10 on Monday, signifying a remarkable ascent from her ranking of around 200 a year ago.
 
Both finalists praised the Cincinnati crowd for their spirited support, considering it a significant factor in their success throughout the tournament. Gauff expressed her gratitude for the vocal backing, particularly during her match against Swiatek, while Muchova appreciated the engagement with fans and the bustling stadiums.
 
Coco Gauff fondly recalled her time in Cincinnati, where she not only relished her victory but also enjoyed local activities like watching Teenage Mutant Ninja Turtles and experiencing the Midwest hospitality.
 
As she heads to the US Open, Gauff aims to give her all and is considered a strong contender for her first Grand Slam title. She acknowledged the lessons learned from her Cincinnati victory, emphasizing the importance of persevering and maintaining a positive outlook, regardless of the outcome. Gauff is determined to carry these insights into her future endeavors on the tennis court.