Carlos Alcaraz's US Open incident sparked rumors
Posted : 03 September 2023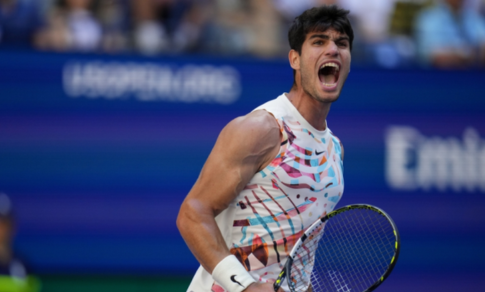 During the US Open, a mysterious incident involving Carlos Alcaraz, the defending champion, stirred up rumors and speculation. While competing against Dan Evans in the third round, Alcaraz was seen receiving a vial containing a red ball from one of the ball carriers.
 
This event occurred during the second set, which Alcaraz won 3-6, and it drew considerable attention as the ball carrier went into the stands to receive the vial from a member of Alcaraz's professional staff.
 
The Serbian media extensively covered this incident, raising various rumors and theories. They noted the lack of explanations regarding Alcaraz's ball, comparing it to a similar incident involving Novak Djokovic, which caused a significant tennis world uproar.
 
Djokovic's case occurred last November during the Paris Masters semi-finals when he was seen consuming a drink prepared by one of his teammates, sparking controversy. The Serbian media questioned why Alcaraz's case didn't generate a similar global reaction.
 
Comparisons were made between Djokovic and Alcaraz, both tennis stars in their own right. Djokovic holds the record for Grand Slam wins with 23 and is considered one of the greatest players in tennis history.
 
Alcaraz, at just 20 years old, is often seen as Djokovic's potential successor. Their recent encounters, including Alcaraz's victory at Wimbledon and Djokovic's win in Cincinnati, have further fueled this rivalry.
 
The strange incidents surrounding Alcaraz, such as his father's presence at Djokovic's training during Wimbledon, have added intrigue to this rivalry.
 
Serbia alleged that Alcaraz's father was attempting to gather information about Djokovic, but Alcaraz claimed his father was merely a tennis enthusiast and a fan of Djokovic, attending the training sessions of various top players.
 
The mysterious vial incident at the US Open has now added another layer of curiosity to this developing tennis narrative.