6th Lagos International Badminton Classics: Drama as Indian duo refuse to play finals over Team U.S lateness
Posted : 03 September 2023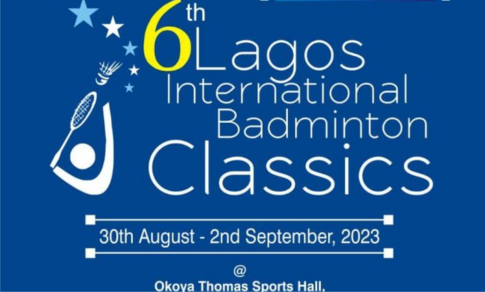 The 6th Lagos International Badminton Classics witnessed an unusual event that nearly marred the finals held at the Molade Okoya Thomas Hall of Teslim Balogun Stadium, Surulere, Lagos, on Saturday. The incident involved Indian players Sirran Singhi and Ritika Thaker, who insisted on a walkover penalty over their U.S. opponents.

The U.S. team arrived late due to a traffic gridlock caused by a tanker carrying gas that had an accident at the foot of the Stadium Bridge, leaking gas and leading to road closures.
 
Emergency workers were called in to handle the gas leakage, creating a significant delay in traffic. As a result, the U.S. players scheduled to compete in the Women's Singles final against their Indian counterparts could not reach the venue in time.

The Women's Doubles and Singles finals between the U.S. team of Lauren Lam and Paula Lynn Cao and the Indian duo of Sirran Singhi and Ritika Thaker were declared walkovers after a 10-minute delay.
 
Francis Orbih, the President of the Badminton Federation of Nigeria (BFN), made an appeal to the officials to postpone the matches to allow the U.S. duo to arrive at the venue. However, the Indian players adhered to the game rules, which stipulate a walkover after a 10-minute delay.
 
Despite the disruption caused by the incident, Jonathan Matias emerged victorious in the Men's Singles, defeating Pablo Abian of Spain in a tightly contested match. Fabio Caponio of Italy and Dmtny Panarin of Kazakhstan shared the third position.
 
In the Women's Singles, Ines Lucia Castilo-Salazar of Peru secured the title by defeating Lauren Lam of the USA, while Rachel Darragh of Ireland and Juliana Vaiana Viera of Brazil shared the third position.
 
Commenting on the incident, Orbih stated that the BFN would address the matter with the world badminton governing body. He explained the efforts made to reschedule the matches due to the unusual circumstances, including contacting the World Body for clarification.

Ultimately, the Indian team refused to play, impacting the Women's Singles final as one of the U.S. players, Lam, was automatically disqualified for not participating in the Doubles event. Orbih expressed his hope that the tournament's successes would overshadow the challenges and that the remaining issues would be addressed with the African and World Bodies.