22-year-old Brazilian Matias wins 6th Lagos International Badminton Classics
Posted : 03 September 2023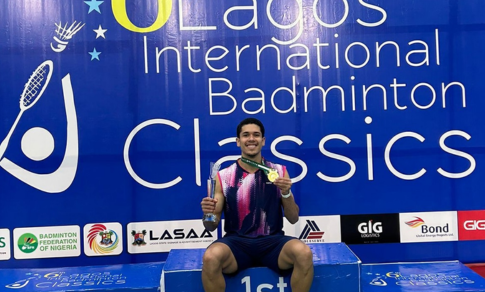 In a thrilling showdown at the 6th Lagos International Badminton Classics, a 22-year-old Brazilian, Jonathan Matias, secured victory by defeating Spain's Pablo Abian in the Men's Singles final. The event, reported by Africa Sport Network (ASN), took place at the Molade Okoya Thomas Hall of Teslim Balogun Stadium, Surulere.
 
The final was filled with tension as Matias capitalized on a few errors made by the Spaniard Abian. Matias, who had previously defeated Nigeria's Anu Opeyori in the quarter-final, expressed his elation at securing his first major international title.

He said, "This title means a lot to me, this is my first time of winning an international classic tournament in my career. I love the atmosphere here and the fans didn't bother me. I just focused on what I want to do and put everything behind. The hall was quiet in my mind as I was playing my game and wasn't thinking about the crowd. I worked hard and trained for this event, and here I am as the champion. I hope to continue from this to other medals, especially at the Olympics."
 
In the Men's Singles, Fabio Caponio of Italy and Dmtny Panarin of Kazakhstan shared the third position.
 
In the Women's Singles, Ines Lucia Castilo-Salazar of Peru claimed victory by defeating Lauren Lam of the USA. Rachel Darragh of Ireland and Juliana Vaiana Viera of Brazil both achieved joint third place.
 
Moving to the Men's Doubles, PS Ravikshra and Sankar Prasad Udayakumar of India emerged victorious by defeating the Algerian duo of Koceila Mammey and Youcef Sabri. On the other hand, Nigeria's Abduhamid Waheed Musa and Daniel Philip, along with Jose Guevara and Diego Mini of Peru, achieved a shared third position.
 
In the Women's Doubles, the Indian duo of Sirran Singhi and Ritika Thaker secured the win by default as their opponents, the USA duo of Lauren Lam and Paula Lynn, couldn't compete. Additionally, the Indian duo of Rutaparma Panda and Swetapana Panda, alongside Amy Ackerman and Deidre Laurens, were joint third.
 
The Mixed Doubles category saw Jose Guevara and Ines Lucia Castilo of Peru triumphing over Mina Ivanocic and Petra Polanc of Slovenia. Musa Morroh and Ramatu Yakubu, along with Dinna Miri and Paula la Torre-Regal of Peru, shared the third position.
 
The final event was attended by various dignitaries and stakeholders in Nigerian badminton, including Mr. Sola Aiyepeku, Chairman of Lagos State Sports Commission (LSSC), and Francis Orbih, President of Badminton Federation of Nigeria (BFN), among others.