Sepp Kuss gears up for grand tour victory battle against Jumbo-Visma teammates in Vuelta a Espana
Posted : 12 September 2023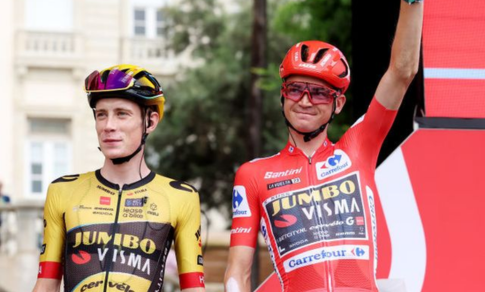 Sepp Kuss is prepared for a challenging battle against Jumbo-Visma teammates Primoz Roglic and Jonas Vingegaard as he seeks his maiden Grand Tour victory at the Vuelta a Espana.

Kuss, who wasn't initially considered a contender for the general classification, now wears the red jersey, leading Roglic by 1'37" and Vingegaard by a further seven seconds. The prospect of a Jumbo-Visma rider winning the race is high, but the ultimate winner remains uncertain as the race enters its final week.

Kuss is well aware that there will be no special treatment among teammates, saying, "There's no overcomplicating how we use the three of us." He acknowledges the importance of prioritizing the team's victory over individual achievements and believes that the rider feeling the strongest should lead.

Despite his current lead, Kuss prefers to work behind the scenes and doesn't feel the need to have the entire team's support. He appreciates his teammates but thrives in the shadows.

The 28-year-old American, who has primarily served as a support rider, is now in a position to secure a historic Grand Tour win for himself and his team. He feels confident heading into the final week of the Vuelta, particularly with challenging climbs in Cantabria and Asturias that suit his riding style.

Kuss is determined to maintain his performance and is excited about the upcoming challenges.

If successful, Kuss could become the first American Grand Tour winner since Chris Horner in 2013, marking a significant achievement in his cycling career.