Nigerian-born Opeyori targets legendary status in badminton
Posted : 05 September 2023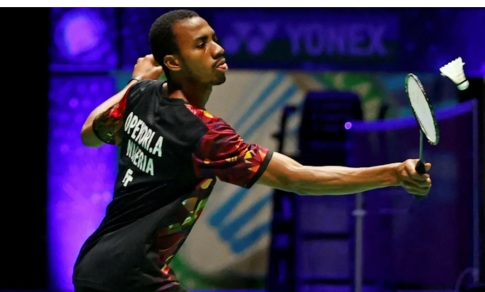 Anuoluwapo Opeyori, the first African and Nigerian ever to reach the quarter-finals of international badminton classics, is now setting his sights on achieving legendary status in the sport. Currently the highest-ranked player in Africa, Opeyori, who hails from Lagos, expressed his desire to win numerous medals.
 
During the recent 6th Lagos International Badminton Classics, Opeyori's exceptional performance propelled him to the quarter-finals in the Men's Singles category. He was eventually eliminated from the competition by the category's winner, 22-year-old Brazilian Jonathan Matias.
 
Opeyori, aged 26, a three-time gold medalist at the National Sports Festival (NSF) in 2018, 2020, and 2022, spoke proudly of his achievements so far and his determination to elevate his game.
 
"I feel elated with this feat, and I am proud of myself for being the first Nigerian in the quarter-finals of the Lagos International Classics. It is a good one for me," he said.
 
He initially had doubts about his form to advance through the knockout stage but fought hard to secure his place. Playing in front of the home fans further boosted his confidence.
 
Looking ahead, Opeyori emphasized the importance of accumulating points to qualify for the Olympics, expressing his dream to participate in the Paris 2024 Olympics.
 
"The qualifiers for the Olympics started in May, and we are still acquiring more points until next year when the qualifications will end," he explained. "For me, I will continue to play at my best and achieve the right results, which would be a high point for me and a dream to play at the Olympics."
 
Opeyori aspires to become a legend in the sport, aiming for multiple titles and consistently winning matches. He mentioned his interest in participating in upcoming tournaments, including one in Vietnam, provided he obtains the necessary visa.
 
"I would have loved to play at the next classics in Guatemala, but it won't happen because of issues with a transit visa," he noted. "There are lots of problems with transit visas to that country because it's not a direct flight, and it's difficult to get a visa. However, I am looking forward to the next classics in Vietnam in September if I am able to get their visa."