Nigeria Rope Skippers set Five new Guinness World records
Posted : 23 August 2023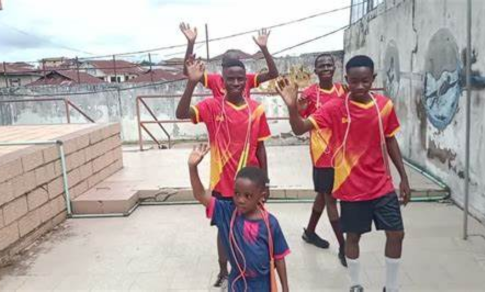 Nigeria Rope Skippers staged a historical outing as they broke five different Guinness World Records.

The event was held at the Akure Township Stadium.

Gbenga Ezekiel who currently holds the Guinness World Record in Most Skips on One Leg in One Minute with 265 skips broke his own record with additional Eleven skips to net 276. 

This remarkable achievements has made him the first Nigerian and African to break his own record. 

The Ijapo High School pupil went ahead to challenge Himanshu Prajapathi of India in Most Double Under Skips on One Leg in One Minute. 

He successfully smashed Prajapathi's 132 record with 12 skips as he skipped 144 in One Minute to capture the record.

Philip Solomon, the Oyemekun Grammar School pupil who currently holds the Guinness World Record in Most Skips on One Leg in 30 Seconds, was also on song as he added two more Guinness World Record crowns.

He took the stage to dethrone Himanshu Prajapathi of India in both Most Cris-cross on One Leg in 30 Seconds and Most Cris-cross on One Leg in 30 Seconds Blindfolded. 

He recorded 68 skips in Most Cris-cross on One Leg in 30 seconds against Prajapathi's 67 and 70 in Most Cris-cross Skips on One Leg in 30 Seconds Blindfolded to erase Prajapathi's 62.

Dunsin Dubem made his Guinness World Record debut by skipping 77 in Most Double Under Crossovers in 30 Seconds. The record is held by Ryan Eedion ONG Alonzo of the Philippines.

Once their evidences are verified by the Guinness World Record Management, they will be certified and coronated accordingly.

Speaking on the skippers achievements, coach Ukandu Chibuisi said the performances of the skippers is a sign that Nigeria is greatly blessed with talents that can rank among the best in the world. 

"Breaking and setting Five world records goes to prove that Rope Skipping alone can get five Gold medals for Nigeria once Rope Skipping becomes an Olympic sport. 

"That's one reason government should endeavour to leverage and promote the sport by including it in National Sports Festival and Youth Games."

Speaking on future competitions he added: ``We should be holding National Open Championships in November to serve as qualification for world championships in USA and Japan respectively. 

``We also look forward to holding the first ever Rope Skipping Grandmaster's Derby in December. 

``We want to see State Sports Councils and Commissions introduce and promote the sport in their various states as it is helpful in children and youth development. 

``At the Federation level we are all ready to assist any Sports Council or commission in growing the sport in their State,'' he said.

The President of the Nigeria Rope Skipping Federation, Dayo Oyewo said the achievements of the skippers is proving to the world that Nigeria is a great country in all ramifications. 

``The skippers are not stopping at that, there are still more world records to break, we are confident they will continue their winning streaks."