Nigeria Handball Coach Shittu releases final list of players ahead of 19th Africa Women's Youth Championship
Posted : 13 September 2023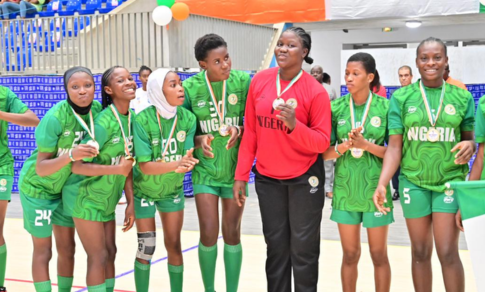 The Head Coach of Nigeria's U-18 women's handball team, Coach Shittu Adewunmi Agboola, has released the final list of players that will represent the players at the forthcoming 19th Africa Women's Youth Nations Championship, which will hold in Monastir, Tunisia, from September 16 to 23, 2023.

The national U-18 girls handball team had been undergoing an intensive training camp at the Rowe Park Sports Center in Yaba, Lagos, under the tutelage of Coach Shittu and his assistant, Bayelsa Queens manager, Coach Opuene Roberts, ahead of the continental championships.

18 players were invited, and after more than two weeks of camp, 15 players were selected, with many of the players being the core of the team that participated in and won the IHF Trophy Africa Zone 3 tourney and the IHF Trophy Africa Continental Phase in Ghana and Ivory Coast, respectively.

The list includes captain Esther Matthew and the Babatunde twins from the Seasider Babes of Lagos, goalkeeper Precious Samuel, Prudence Onyinyechukwu Samuel and Bello Rahima of Rima Queens, Vera John of Bayelsa Queens, and Damilola Akinlade of Delta Force, amongst others.

Meanwhile, the Nigeria U-18 Women Handball Team defeated Aspac Handball Club of Benin Republic 24-21 in an international friendly tune-up match on Monday in Lagos. They will play another friendly match on Wednesday.
 
Final list:
1. Esther Mathew - Seasider Queens
2. Kehinde Babatunde- Seasiders Queens
3. Taiwo Babatunde- Seasiders Queens
4. Precious Samuel- Rima Queens
5. Prudence Samuel- Rima Queens
6. Rahima Bello- Rima Queens
7. Chidera Ogbusimba- Rima Queens
8. Munira Kasimu- Rima Queens
9. Amina Muhammad- Rima Queens
10.Monica Opara- Rima Queens
11. Vera John- Bayelsa Queens
12. Damilola Akinlade - Delta Force
13. Amarachi Oparaugo- Imo Grasshopper
14. Joan Okolo- Delta Force
15. Lucy Onyekwere- Rima Queens
Officials:
1. Agboola Shittu Adewunmi - Tojemarine Academy
2. Opuene Roberts - Bayelsa Queens.