Verstappen dominates qualifying, secures pole position for Japanese Grand Prix
Posted : 23 September 2023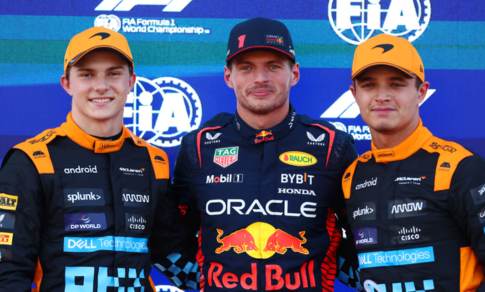 Max Verstappen of Red Bull delivered a sensational performance, securing pole position for the Japanese Grand Prix. The Dutch driver dominated the qualifying session, finishing a remarkable 0.581 seconds ahead of Oscar Piastri in second place, who impressed with a superb performance. McLaren's Lando Norris secured the third spot, just 0.035 seconds behind Piastri.

Ferrari's Charles Leclerc claimed the fourth position, while Verstappen's Red Bull teammate, Sergio Perez, came in fifth, trailing Verstappen by 0.773 seconds. Carlos Sainz of Ferrari secured the sixth spot, followed by Mercedes' Lewis Hamilton and George Russell.

Yuki Tsunoda, driving for Alpha Tauri, delighted the local fans with a ninth-place finish, while Fernando Alonso of Aston Martin rounded out the top ten.

Max Verstappen's dominant performance at Suzuka came after his 10-race winning streak was halted in Singapore. Throughout the weekend, Verstappen displayed his superiority by topping all practice sessions and all parts of the qualifying session, setting the stage for a potential victory on race day.

Verstappen's rivals had anticipated Red Bull's dominance in Japan, and it became evident during the qualifying session. If Verstappen has a trouble-free race, he is poised to secure his 13th victory in 16 races.

Oscar Piastri's impressive second-place finish underscored his potential, and it coincided with McLaren's announcement of his contract extension through 2026. Norris acknowledged Piastri's strong performance and highlighted the challenges of Suzuka.

The top three drivers, Verstappen, Piastri, and Norris, were significantly faster than the rest of the field, with Verstappen leading the McLarens by 0.240 seconds.

Ferrari's Charles Leclerc had a strong showing, outperforming his teammate Carlos Sainz, following a challenging series of races. Ferrari introduced a new floor for the car in Japan, which helped stabilize its performance, allowing Leclerc to adapt it to his preferred driving style.

Sergio Perez's performance in fifth place, trailing Verstappen by a substantial margin, reflected a challenging weekend for Red Bull's competitors, Mercedes in particular. Mercedes faced difficulties with the car's performance in high-speed corners, resulting in Lewis Hamilton finishing behind Verstappen and Norris but ahead of teammate George Russell.

At the back of the grid, Logan Sargeant's crash during his first lap in the initial session further complicated his chances of remaining with Williams for the next season.

In summary, Max Verstappen's dominant performance secured pole position at the Japanese Grand Prix, reaffirming Red Bull's superiority. Piastri's impressive showing and Norris' strong performance marked highlights in the qualifying session, while Ferrari's Leclerc outperformed his teammate. Mercedes faced challenges, and Sargeant's crash added to Williams' uncertainties for the next season.