Mirko Bortolotti wins second 2023 DTM victory at DEKRA Lausitzring, defeating Ricardo Feller
Posted : 21 August 2023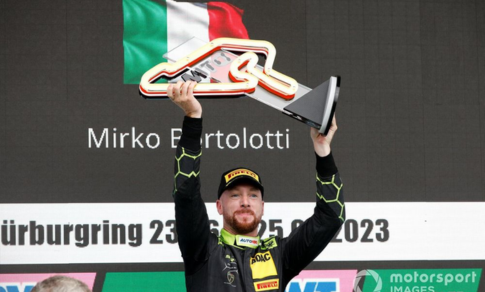 Mirko Bortolotti secured his second victory in the 2023 DTM season during an intense tenth race at the DEKRA Lausitzring. Driving a Lamborghini Huracán GT3 Evo2, Bortolotti faced relentless pressure from Ricardo Feller in his Audi R9 LMS GT3 Evo2 throughout the race.

After 45 flawless laps, Bortolotti clinched the win and described it as one of the most intense races of his career. He praised Feller's determination to challenge him until the final lap. The victory propelled Bortolotti and the SSR Performance team to the top of the championship standings.
 
Feller from Switzerland secured the runner-up position, finishing just 0.353 seconds behind Bortolotti. Luca Stolz showcased strong performance in the latter part of the race in his Mercedes-AMG GT3, securing third place and his second podium result of the season. The event saw a total of 43,000 spectators witnessing the action-packed race at the Lausitzring under sunny conditions.
 
Bortolotti initially led the race from pole position, building a substantial lead of over one second. Feller followed closely, and Lamborghinis driven by Clemens Schmid and Franck Perera held third and fourth positions. Championship leader Thomas Preining trailed in fifth. Excitement arose on lap 18 when Perera collided with Schmid, forcing both drivers to retire from the race.
 
Feller gradually closed in on Bortolotti after the mandatory pit stop, launching multiple attacks. Stolz executed a notable overtaking maneuver to move past Preining and secure third place. Despite Stolz's efforts, Bortolotti and Feller engaged in a fierce battle for the lead, with Bortolotti ultimately emerging victorious. This win marked Bortolotti's second of the season, placing him at the top of the DTM table with a seven-point lead over previous leader Preining, who finished fourth behind Stolz.
 
Other notable performances included Dennis Olsen finishing fifth in the second Porsche 911 GT3 R, Lucas Auer securing sixth place in his Mercedes-AMG GT3, and Jack Aitken claiming seventh in his Ferrari. Kelvin van der Linde made an impressive climb to eighth place in the Audi R8 LMS GT3 Evo2. Thierry Vermeulen ended the race in ninth with his Ferrari 296 GT3. Marco Wittmann showcased remarkable progress by advancing from 22nd on the grid to finish in the top ten.
 
Reflecting on the battle, Feller acknowledged the intensity of his duel with Bortolotti and expressed satisfaction with earning second place points. Stolz highlighted his own impressive performance, moving from sixth place to secure a podium position, and remained attentive to the battle ahead throughout the race.