Max Verstappen dismisses connection between Red Bull's performance drop in Singapore Grand Prix, urging skeptics to "suck on an egg"
Posted : 23 September 2023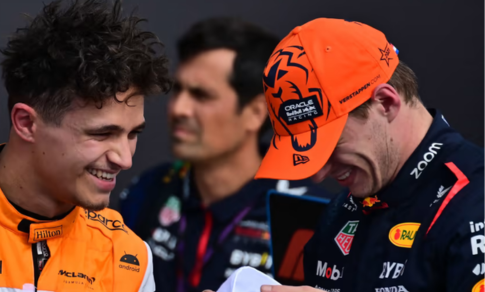 Max Verstappen dismissed any connection between Red Bull's performance drop in the Singapore Grand Prix and an FIA technical directive, telling skeptics to "suck on an egg." Following a challenging weekend in Singapore, where Verstappen qualified 11th and finished fifth in the race, the Dutch driver bounced back by securing pole position for the Japanese Grand Prix with a significant 0.581-second advantage.

Verstappen's dominant performance at Suzuka underscored his continued superiority in the field, dispelling any notions that Red Bull's struggles in Singapore were tied to the FIA's technical directive. The directive was aimed at addressing flexing bodywork that could potentially provide a competitive advantage and circumvent existing regulations against movable bodywork.

When asked if the issues faced in Singapore had resurfaced in Japan, Verstappen emphatically replied, "Zero. Singapore didn't happen for us!" He refuted any suggestion that Red Bull had been affected by the technical directive and offered a straightforward response to those who proposed a link.

Verstappen's commanding lead in qualifying, with a 0.581-second gap over second-placed Oscar Piastri, a 0.773-second lead over his teammate Sergio Perez in fifth, and a 1.031-second advantage over the fastest Mercedes driver, Lewis Hamilton in seventh, showcased his exceptional form.

He noted that adjustments made to his car after Saturday's practice session contributed to widening the gap between Red Bull and McLaren drivers in second and third. Verstappen emphasized the importance of feeling confident in the car, which allowed him to push harder in the qualifying session, particularly in the first sector.

In conclusion, Max Verstappen's pole position at the Japanese Grand Prix firmly dismissed any notion of a connection between Red Bull's Singapore performance dip and the FIA technical directive. His dominant qualifying performance highlighted the effectiveness of adjustments made to the car, enabling him to maintain his edge over the competition.