DTM drivers tested electric Opel Corsa Rally Electric at DEKRA Lausitzring, with first champion Volker Strycek providing tips
Posted : 18 August 2023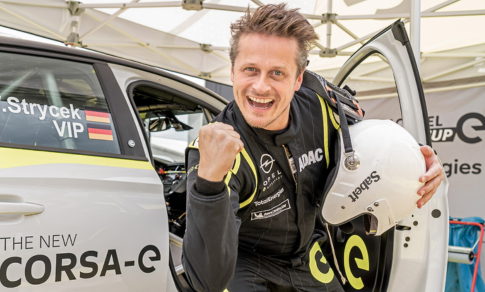 Ahead of the second half of the DTM season at the DEKRA Lausitzring, four drivers engaged in an unconventional gravel challenge on Wednesday. Maro Engel, Laurin Heinrich, Clemens Schmid, and Kelvin van der Linde participated in the DTM Gravel Challenge, a departure from their usual circuit racing. Leaving their regular cars behind, they drove the electric Opel Corsa Rally Electric from the ADAC Opel Electric Rally Cup, the world's first electric one-make rally cup.
 
The drivers teamed up to tackle the loose surface, with Heinrich and Schmid forming one pair, and Engel teaming up with van der Linde. Their task involved completing three laps on the Massen Dirt Track, followed by a tire change, and then another three laps on the gravel circuit. The challenge aimed to showcase their adaptability on unfamiliar terrain. Volker Strycek, the first DTM champion and involved in developing the Opel Corsa Rally Electric, provided them with guidance.
 
While the DTM drivers demonstrated skill on the sandy surface, the performance pit stop and tire change proved to be a challenging aspect of the challenge. The rally rookies found tire changing physically demanding, with Heinrich commenting on the strenuousness of the task. Despite the challenges, the drivers enjoyed the experience and the camaraderie with their rally team partners.
 
The Opel Corsa Rally Electric used in the challenge is a pioneering vehicle, the first fully-electric rally car designed for mass use. With an electro motor producing 136 HP and 260 Nm of torque, the car races in the ADAC Opel Electric Rally Cup "powered by GSe." The DTM stars utilized the car's fly-off handbrake to create electrifying drifts and high-speed maneuvers on the gravel circuit.
 
The DTM Gravel Challenge was filmed and will be broadcasted by TV partner ProSieben on Sunday before the live DTM race broadcast. This segment will reveal which DTM duo executed the fastest electric drifts.
 
The DTM stars, including Engel, Heinrich, Schmid, and van der Linde, are set to continue providing entertainment during the weekend's events. The DEKRA Lausitzring will host the fifth event of the season, featuring two races starting at 13:30 on both Saturday and Sunday. TV partner ProSieben will broadcast these championship races live on German free TV, starting pre-race programming at 13:00 on both days. The DTM races are accessible worldwide through live or re-live broadcasts, reaching more than 150 countries.