Denny Hamlin settles for second at Kansas Speedway, frustration mounts despite strong performance
Posted : 11 September 2023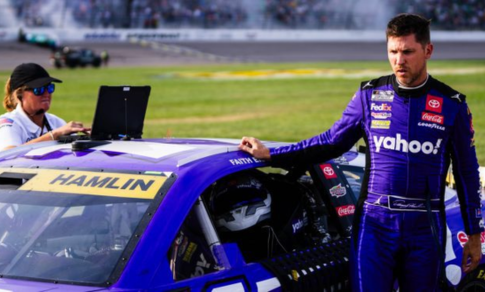 Denny Hamlin faced another near-miss in the NASCAR Cup Series Playoffs, finishing second at Kansas Speedway behind race winner Tyler Reddick, co-owner of 23XI Racing, the team Hamlin co-owns.

Despite leading 63 laps in the Hollywood Casino 400, Hamlin's runner-up finish leaves him 49 points above the provisional elimination line but not officially locked into the next round, which he could have secured with a victory either at Kansas or Darlington Raceway in the previous race.

A late caution with six laps to go changed the race dynamics, with Hamlin caught in a difficult position on the restart, leading to his second-place finish.

Hamlin's crew chief, Chris Gabehart, believed their No. 11 Toyota was the best car on the track, evident in the loop data, where Hamlin ranked first in green-flag speed and second in the total number of fastest laps. Gabehart expressed frustration that, out of the 60 races where they had a winning car, they only managed to win 18. Despite this, he praised the team's resilience and ability to bounce back from setbacks.

The race's outcome was influenced by a late caution when Chris Buescher had a flat tire and hit the wall. While most cars pitted, Daniel Suárez stayed out, leading the restart. Hamlin chose to restart in the outside lane behind two cars with old tires, while Reddick opted for the inside lane behind Suárez. A focus on Hamlin's rear-view mirror to avoid a three-wide situation resulted in a poor restart, allowing Reddick to pass and win the race.

Despite the frustration, Hamlin acknowledged the strength of the No. 11 team and their capability to win races. Gabehart praised the pit crew's ability to rebound from a pit-road error at Darlington and emphasized their determination and continued improvement.

Hamlin's second-place finish at Kansas leaves him in a solid position in the playoffs but serves as a reminder of missed opportunities to capitalize on strong performances this season.