Young Football Stars of 2023: Rising talents making waves in European Football
Posted : 26 September 2023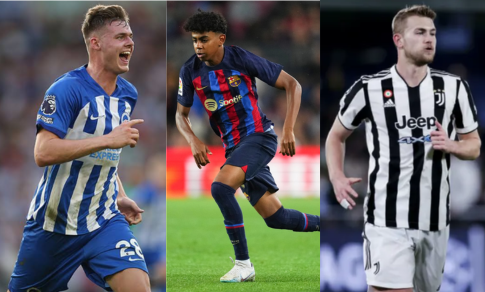 2023 has witnessed the emergence of several exceptional young talents in European football, with a focus on those aged 19 and under who have made significant headlines in the sport. We exclude those who were already famous, such as Gavi and Alejandro Balde. Let's delve into the rising stars of European football this year:
 
1. Evan Ferguson: Hailing from Brighton's academy, the Irish striker has been dubbed "Ireland's answer to Erling Haaland." His physicality, speed, composure in front of goal, and versatility make him a formidable talent. Ferguson has already impressed with 10 goals in all competitions, and expectations are high, both at Brighton and in Ireland.
 
2. Lamin Yamal: The Barcelona wonderkid made his debut for the club at just 15 years and 9 months, becoming the youngest player in the club's history. He has since established himself as a key player in Xavi's squad, breaking records along the way, including becoming the youngest goalscorer in Spanish history.
 
3. Matthijs Tal: The 18-year-old French striker at Bayern Munich has been described as "phenomenal." Tal's knack for scoring important goals, including injury-time winners, has made him a rising star. His sharpness, speed, self-confidence, and powerful shot make him a player to watch.
 
4. Warren Zaire-Emery: The 17-year-old midfielder from Paris Saint-Germain has quickly become a dominant presence in the lineup. A local academy graduate, Zaire-Emery's progress has been remarkable. He was in high demand from top clubs like Liverpool but ultimately joined Chelsea for £53 million.
 
5. Giorgio Scalvini: The 19-year-old Atalanta star looks set to be Italy's future defensive stalwart. With his height, excellent aerial ability, and impressive tackling, Scalvini is seen as a promising prospect. He has already received a call-up to the national team.
 
6. Osman Dewand: The 19-year-old Ivory Coast defender, initially on loan at Mafra in Portugal's second division, was signed by Sporting Lisbon for €7.5 million. Known for his leadership, strength, and game management, Dewand's value has skyrocketed, attracting interest from the Premier League, particularly Arsenal.
 
7. Rubén van Bommel: Son of Dutch football legend Marc van Bommel, the 19-year-old winger is making a name for himself with his excellent dribbling skills. After an impressive stint in the second division, he moved to Alkmaar and has continued to shine. With his height and dribbling ability, he's poised to become a sought-after talent.
 
These young stars represent the future of European football, and their performances have garnered attention and excitement from fans and scouts alike.