Real Madrid fears Vinicius' prolonged absence
Posted : 28 August 2023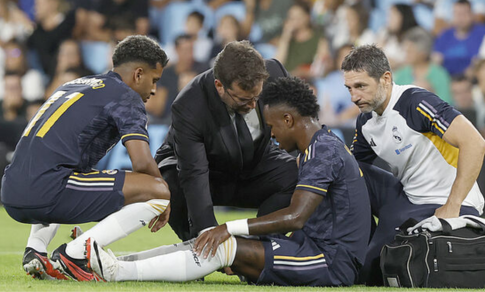 Real Madrid's Spanish league campaign has begun on a positive note, with the team securing victories in their first three games. The addition of Jude Bellingham, who joined this summer, has proven to be a valuable asset, contributing four goals and showcasing impressive skills. However, the team's progress has been marred by a string of injuries to key players.
 
After losing Thibaut Courtois and Eder Militao to long-term injuries, Real Madrid has received another blow. Brazilian star Vinicius, who sustained an injury during a match against Celta, is now expected to be sidelined for a month or potentially even longer. The forward strained his muscle during the team's recent away game in the third round of the Spanish league and was forced to exit the match in the 18th minute.
 
Initially, it was hoped that Vinicius would only miss a few days due to his injury. However, subsequent assessments have revealed a more severe situation. Vinicius is scheduled to undergo an MRI to determine the extent of the injury, and there are concerns within the club that he may have suffered a muscle tear. This could lead to him missing significant playing time, including the upcoming derby against Atletico Madrid on September 24.
 
Real Madrid's injury woes have been compounded by the absences of goalkeeper Thibaut Courtois and defender Eder Militao, both of whom are dealing with knee ligament injuries. These players are expected to be out of action for an extended period, placing additional pressure on the team.
 
When asked about potential new signings to address the absence of Vinicius, manager Carlo Ancelotti remained composed. He emphasized the strength of the team as a whole and expressed confidence in their ability to perform well even in the absence of key players. Ancelotti's faith in the team's offensive capabilities and overall performance is backed by the numbers they have delivered on the field.