PANASA President commends competition
Posted : 27 August 2023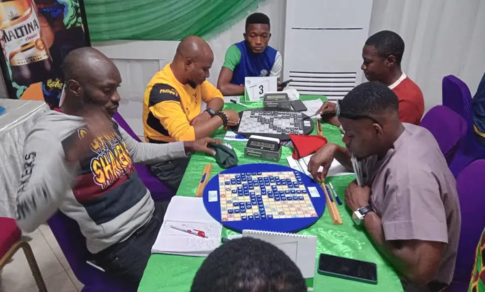 A very passionate and dependable stakeholder of the game of scrabble in Ghana and Africa, Samuel Mbrayeh Quartey, has described the PANASA President's Cup as a ground breaking event as far the sport is concern in Africa and the World.
 
The man fondly called SM Quartey, made this submission in Lagos, Nigeria in an exclusive interview with your authoritative news channel.

"I'm happy to be in Lagos to witness this tournament which I will call ground breaking. The kind of organization we are seeing here is taking the game of Scrabble to another level.

``Before the tournament and during the tournament, I have seen a kind of friendship and brotherliness among all the contestants. It's really like coming togather of one family and such environment is beautiful" Quartey said.

Samuel Mbrayeh Quartey, a renowned architect and a philanthropist is excited with the standard of organization of both the President's Cup and the African Youth Scrabble Championship which Ghana is fully represented in.

"The organization, the set up, the ambiance, fresh customized boards for everybody, the officiating, the quality, everything associated with it, it's the height of scrabble, it's a spectacle and I'm happy to be here watching it. He stated.

SM Quartey, further stressed that Ghana and other African countries should build on the success story of the Pan African Scrabble Association (PANASA) President's Cup. 

``I Am happy to be here in Lagos  with our director from the ministry of sports in Ghana, we been taking lessons here, we to go back home and replicate what we seen here."

The soft spoken scrabble stakeholder whose architecture master piece dots most parts of 'Mother-Land' Ghana has some kind and nice words for the President of PANASA, Adekoyejo Adegbesan. 

"Adegbesan's presidency represents a new wave for African scrabble, it's not a surprise but I'm excited about it."

On the issue of corporate backing and support, the Post Graduate Diploma holder in Architecture, from the prestigious Kwame Nkrumah University of Science and Technology of Ghana, explained that it's not just about getting corporate bodies to throw their weight behind the game but corporate bodies that are connected and can relate with the sport is what is needed for it to be lifted all round. 

"Scrabble as a game is best supported by people who have love for the game not just corporate bodies who have no connection with the game, so some of our old enthusiasts who are concentrating on their corporate businesses, it's about time we knock on their doors and say come and show some love and support to our common joy, which is scrabble. He stressed.

He also beckon on the media to identify with the game and tell the story to the world; " once everybody understand and speak the scrabble language, it will be more easier for sponsorship to follow and sponsorship will sure drive the competition and more money will attract more persons to the sport."

Another scrabble project that Samuel Mbrayeh Quartey, is asking the Scrabble fraternity in Ghana, Africa and the World to buy into, is the plan by the Pan African Scrabble Association (PANASA), to push for Accra, Ghana, to be the next host of the World English Scrabble Players Association (WESPA) Championship in 2025.

PANASA, the Scrabble Association of Ghana (SAG) the Ghana Ministry of Sports, the Ghana National Sports Authority and all relevant bodies as well as individuals and WESPA member nations are being consulted for Accra, Ghana 2025 to be born.

"You know we have scrabble greats in Ghana like Charles Tachie Menseh, he is among the top ten players at the last world championship, he will be more than happy to welcome the rest of the World to Ghana in 2025. 

``The conversation is in it's very early stages, there are consultations going on, the thought of it alone is exciting and one thing that making it more interesting is the fact that the PANASA President Adegbesan is very passionate about it and he is driving the move, it not just a Ghanaian bid but a united African project. He emphasized.

SM Quartey is wearing multiple caps as regard the PANASA President's Cup (PPC), the second prize and trophy is named after him. 

The Ghanaian is both an individual sponsor and a corporate partner of the elite event through his firm Atelier Gh and on a personal level as S.M.Quartey. 

It's interesting and instructive to know that atelier the name of Quartey's company is a playable scrabble word.

 "It an honour to have the second prize trophy named after me, I'm elated, excited and I feel honoured and equally appreciated too."

Samuel Mbrayeh Quartey, alongside, Haruna Adamu, the President of Scrabble Association of Ghana (SAG), the Scribe if SAG, Christie Ashley, Dr. Kwaku Ofosu Asare and the PANASA President Adegbesan had a very heavy hand in making scrabble part of the next All African Games to be hosted by Ghana in March next year.

It's noteworthy to state that the PANASA President's Cup is the largest scrabble jamming session on the continent since the game was firmly rooted in Africa. Botswana, Cameroon, Ghana, Kenya, Liberia, The Gambia, Sierra Leone, Uganda United States of America and host Nigeria are participating in the event that has a prize money pool of 32,000 dollars.

About The Man Samuel Mbrayeh Quartey:

Samuel Mbrayeh Quartey completed Post Graduate Diploma in Architecture, Kwame Nkrumah University of Science and Technology of Ghana and served as a teaching assistant before joining Rhaycad, an Architectural Practice in Accra for 3 years. 

At Rhaycad, S.M.Quartey was exposed to the use of computer in Architecture and worked on projects such as the Chamber of Parliament, Kakum National Park and Latter Day Saints Temple. 

S.M.Quartey, later joined Deweger Gruter Brown and Partners in 1997, worked for another 5years on projects such as Standard Chartered Bank, Ring Road and Spintex, Dansoman and Sunyani, Apex Bank Head Office and Palm Court all in Ghana.

He started his own practice registered as Atelier in 2003. Atelier which is a playable scrabble word is credited with outstanding projects such as the CAL Bank Head Office, National Communication Authority Head Office (NCA), Allied Oil Head Office, UNA Home, KEK Insurance Head Office, The Elizabeth building and to mention but a few.

The very passionate Scrabble stakeholder also served as Honourary Secretary of the Ghana Institute of Architects in 2004 and later the president of the Ghana Institute of Architects.