Norwegian star Erling Haaland faces title match fringes, Cole Palmer continues summer form, Manchester City struggles without De Bruyne
Posted : 17 August 2023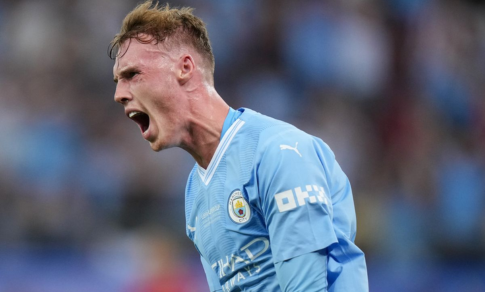 Once again, the Norwegian sensation Erling Haaland found himself on the fringes of a title match. Meanwhile, Cole Palmer continued his spectacular summer form, and Manchester City struggled without the brilliance of Kevin De Bruyne. Could Lucas Paqueta be the solution to their challenges?
 
The intriguing aspect of yesterday's UEFA Super Cup clash in Piraeus was the fact that these two rivals had crossed paths in last season's Champions League group stage. In a more conventional scenario, this encounter might not have occurred. However, UEFA's consolation system creates a dynamic that inadvertently promotes setbacks.
 
Dortmund, the runners-up of that group, were subsequently eliminated in the round of 16 by Chelsea. Their European campaign could be categorized as a disappointment. On the other hand, Sevilla managed to secure only 5 points in that same group, but that proved sufficient for a third-place finish, leading them straight into the Europa League. There, they triumphed, securing both glory and a renewed ticket to the Champions League for the upcoming season, not to mention a chance to contend for another Super Cup victory.
 
A question emerges: would Dortmund have performed better or even thrived in the Europa League had they finished third? Such considerations may not always cross the minds of teams and players in the heat of the moment, but fans and pundits are free to ponder this matter. It's interesting to note that Swiss journalists, for instance, have expressed preferences for outcomes that could benefit their league's rankings, even if it means strategic losses.
 
Sevilla's journey in last year's Champions League group stage was a roller coaster. It kicked off with a 4-0 defeat at the hands of Manchester City, setting the tone for a challenging season. Despite their struggles, they clinched a spot in the Europa League and went on to secure the title. Now, they're back in the Champions League, with a renewed sense of purpose.
 
For Cole Palmer, one particular Champions League match was a memorable debut for Manchester City. Despite his age of 21, Palmer, a product of the club's academy and a long-time fan, had faced considerable competition from numerous established players. He had spent previous seasons mostly on the bench, but a shift in circumstances saw him step onto the field against Sevilla. Although the game held little significance, it was an important moment for Palmer.
 
The summer has turned out to be a dream for Palmer. His standout performance for the under-21 national team contributed to their historic European Championship victory. Additionally, his position on the right wing opened up as Riyad Mahrez departed for Saudi Arabia. Palmer's playing style, similar to Mahrez's, made him a suitable replacement. His impressive showing in the Community Shield against Arsenal reinforced his intentions.
 
Facing Sevilla once again, Palmer featured prominently with a crucial goal. While the strike may not have been as aesthetically pleasing, it proved pivotal in equalizing the score. Palmer's presence was felt more than that of his teammates Phil Foden and Jack Grealish, as Manchester City struggled without the creativity of Kevin De Bruyne.
 
Palmer's performance has given Pep Guardiola something to consider. While a loan or even a sale had been on the cards for Palmer, his recent contributions have sparked debate. Brighton, Burnley, West Ham, and Leicester are potential destinations, but Manchester City may find that they need him more than ever. Palmer has proven his mettle in games with titles at stake, and his potential impact could be substantial.
 
The Norwegian prodigy Erling Haaland, in contrast, faced another fruitless outing in a title match. While he has displayed his prowess in various scenarios, there's a growing perception that he struggles to shine in crucial encounters. In contrast, players like Yusuf En-Nesyri of Sevilla embody a more traditional approach to the number 9 position, making their mark with aerial prowess.
 
Overall, the Super Cup clash highlighted Manchester City's ball movement superiority, a trait that has not translated into substantial results without De Bruyne. This raises concerns for Guardiola, who may seek to bolster the squad before the transfer window closes. Lucas Paqueta's name has surfaced as a potential addition.
 
Sevilla, on the other hand, under coach José Luis Mendiliver, are looking to build on their Europa League success. The upcoming Champions League campaign holds promise for them, especially with a higher seeding. However, their potential success in the Champions League might hinder their chances in the Europa League, forcing them to make strategic decisions.
 
As the season unfolds, Cole Palmer's emergence, Haaland's struggles, and the challenges and strategies of both teams paint an intriguing picture of football dynamics and decisions.