Noah Lyles criticizes NBA's use of championship-winning teams as "world champions," sparking controversy
Posted : 28 August 2023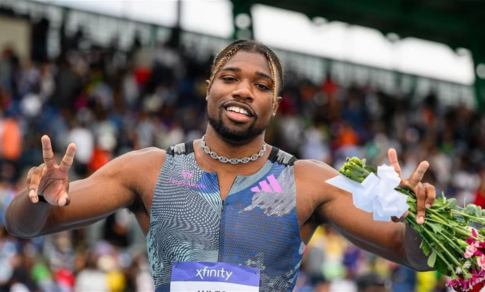 Noah Lyles made headlines at the recent World Athletics Championships in Budapest by becoming the first sprinter since Usain Bolt to win three gold medals in a single championship.
 
However, he also stirred controversy with his comments about NBA championship-winning teams referring to themselves as "world champions." Lyles mocked this label, stating, "What world? Of the United States?" He emphasized that athletes at the World Championships truly represent the world, with participants from numerous countries competing for their respective flags.
 
Lyles' remarks received applause and went viral, prompting reactions from NBA players. Phoenix Suns' Kevin Durant sarcastically expressed concern for Lyles, while Devin Booker responded with a mocking emoji. Damian Lillard's reaction was, "What the hell?" NBA champion Aaron Gordon playfully challenged Lyles to a 200-meter race, and Draymond Green quipped that trying to sound smart sometimes backfires.
 
Utah Jazz player Juan Toscano-Anderson defended the "world champions" label used by NBA teams, highlighting the league's status as the premier basketball competition globally. Lyles also garnered support from various quarters.
 
Darrell Hill, an Olympic shot putter, suggested that NBA players consider themselves world champions due to their competition with international teams like the Toronto Raptors. Entertainer Mario Lopez echoed Lyles' sentiment, citing that even in sports like soccer, which have a global reach, champions don't necessarily call themselves "world champions."