Manchester City's Pep Guardiola predicts Kevin De Bruyne misses Newcastle's match due to a hamstring injury, requiring surgery in Belgium
Posted : 18 August 2023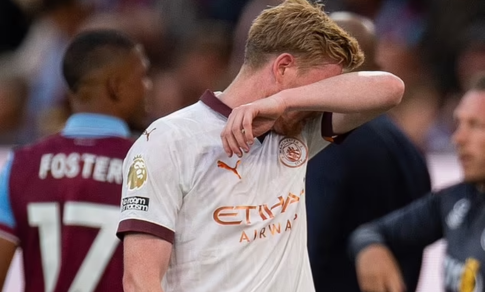 Manchester City's manager, Pep Guardiola, has indicated that Kevin De Bruyne may not be back until the new year. De Bruyne, the City midfielder, missed the Super Cup win over Sevilla due to a hamstring injury he sustained during the Premier League opener against Burnley. This recurrence of the issue that also forced him out of the Champions League final in June requires surgery in Belgium.
 
Guardiola shared during a news conference that De Bruyne's absence is likely to extend for four or five months, indicating that he might miss the first half of the season. The manager acknowledged that injuries have affected the team's performance but emphasized the team's spirit remains intact.
 
In addition to De Bruyne, Bernardo Silva and John Stones are also unavailable, with Rúben Dias having missed recent games due to concussion. However, Dias could potentially return against Newcastle. Guardiola urged the fans to support the team, stating that the team is currently facing challenges but that their support is crucial.
 
Guardiola expressed the desire for the Etihad Stadium to be filled and mentioned the upcoming match as a time to celebrate together with the fans, referring to the recent FA Cup final against United and the Champions League final against Inter Milan.