FIFA to give Spanish FA president Luis Rubiales 15-year suspension amid scandal
Posted : 29 August 2023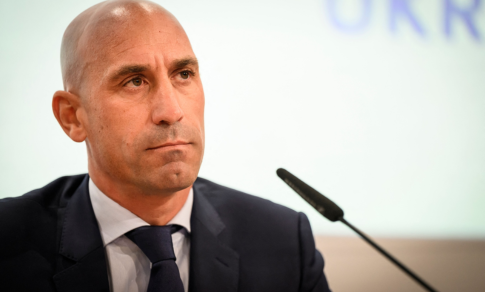 In a startling turn of events, the global football community has been rocked by reports of an impending unprecedented punishment for Luis Rubiales, the embattled president of the Spanish Football Association. Following his refusal to resign amid the "kissing scandal," the situation has escalated to the point where FIFA is allegedly considering a 15-year suspension, the maximum penalty under World Football Association rules, according to an exclusive report in the Daily Mail.
 
Rubiales' refusal to step down has ignited a cascade of consequences. FIFA had previously imposed a temporary 90-day suspension on the Spanish FA president. However, his steadfast stance against resignation has led to talks of the extended suspension. Rubiales, who has labeled recent events as a "character assassination," is facing mounting pressure both from within Spain's football governing body and the broader international football community.
 
The Spanish FA, on its part, has declared that Rubiales' behavior is "unacceptable" and has inflicted damage upon the reputation of football in the country. With concerns of sanctions looming, Spanish FA officials have not only demanded his resignation but also raised the specter of potential suspensions for Spain's national teams and state representatives in international competitions should Rubiales persist in his refusal to step down.
 
Adding to the gravity of the situation, the public prosecutor's office in Spain has initiated an investigation into Rubiales for allegations of sexual assault. Amid these developments, Jenny Hermoso, who was involved in the controversial incident with Rubiales, is reportedly considering the possibility of pursuing legal action.
 
The controversy surrounding Rubiales has transcended the realm of football and has spilled into his personal life. Reports emerged that Rubiales' mother, Ángeles Béjar, embarked on a hunger strike in protest against what she referred to as an "inhumane hunting spree" targeting her son. Béjar's emotional appeal for justice has shone a spotlight on the deep divisions this saga has created.
 
As the storm gathers intensity, the fallout from Rubiales' refusal to step down reverberates across the football landscape. The coaching staff of Spain's national team has seen multiple resignations, illustrating the widespread disquiet caused by the president's actions. Furthermore, a significant number of players, including those recently crowned as world champions, have united in a stance against Rubiales' continuation in office.
 
Major football clubs, including Barcelona, Real Madrid, Espanyol, and Sevilla, have joined the chorus of criticism directed at Rubiales, demanding his resignation. Even Spanish Prime Minister Pedro Sanchez has weighed in, condemning Rubiales' behavior as "unacceptable" and emphasizing that mere apologies are insufficient to address the situation.
 
As the world watches, the fate of Luis Rubiales hangs in the balance. The football community awaits FIFA's decision on his suspension and the resolution of the far-reaching consequences sparked by the "kissing scandal," a controversy that has not only marred the footballing realm but has delved into the heart of personal and professional spheres.