Coach Tata Martino Addresses Messi's injury rumors amid uncertainty
Posted : 01 October 2023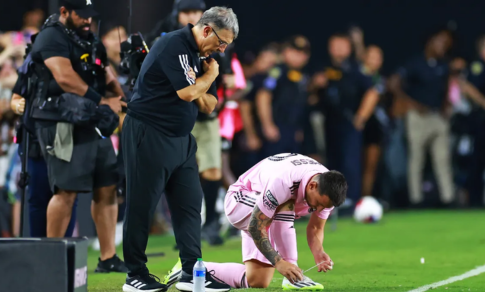 On Saturday night, Leo Messi missed his third consecutive game, and Inter Miami managed to secure a 1-1 draw at home in the 95th minute. After the match, coach Tata Martino addressed the rumors circulating about the superstar's injury, which had sparked reports suggesting he might be sidelined for the remainder of the season.

An American journalist had claimed that Messi's posterior thigh muscle tear had worsened during a game against Toronto, during which he was substituted in the 37th minute. This report suggested that he wouldn't be able to play for the remainder of the current MLS season.

When asked about this, Martino responded, "What will happen to the person who published it if this report turns out to be untrue? Right now, our focus is on taking it one game at a time, and we'll assess Leo's situation before the Chicago match."

Martino continued, "We didn't take any risks with him before the cup final, and we certainly won't take any chances now. He's been training separately from the team but has been improving every day. We'll reevaluate his condition on Tuesday before the trip to Chicago, and if he's fit to play, he will play. Yesterday, his training performance was much better."

It's worth noting that Inter Miami has not disclosed the exact severity of Messi's injury at this point, possibly to keep the possibility of his return alive. This uncertainty continues to draw large crowds of fans in the United States who are eager to watch the Argentine captain in action.