Alexia Putellas highlights broader impact of Spanish footballers beyond the field amid Rubiales controversy
Posted : 14 September 2023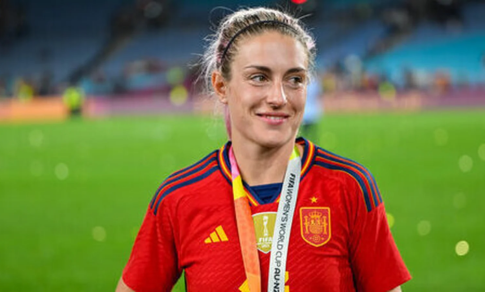 Alexia Putellas, captain of Barcelona Femení and a two-time Ballon d'Or winner, emphasized that the actions of Spain's footballers go beyond the sport as the repercussions of Luis Rubiales' behavior after the World Cup final continue.
 
Rubiales resigned from his position as president of the Spanish Football Federation (RFEF) amid investigations into his conduct following Spain's victory over England on Aug. 20, which included an unsolicited kiss to forward Jenni Hermoso.
 
Speaking after Barcelona Femení received the Medal of Honour from the Catalan parliament, Putellas recognized the significance of this award, highlighting it as a paradigm shift in recognizing women's sports achievements. She thanked those who laid the groundwork for this change in the promotion of women's sports.
 
The Medal of Honour, established in 2000, has previously been awarded to notable figures, including Nobel Peace Prize recipients and first responders during the 2017 terrorist attacks in Barcelona. Pep Guardiola is the only previous sport-related recipient in 2011.
 
Putellas stated that Barcelona's commitment extends beyond football, contributing to building a fairer and more equal society through football, serving as a reference for children, young people, and adults. She called for increased support for women's football, better facilities, more pitches, and grassroots-level investment to ensure equal opportunities for both boys and girls.
 
In light of the ongoing situation involving Rubiales, facing charges of sexual assault and coercion, Putellas emphasized the need for consensus, courage, and leadership from institutions to combat disrespect or abuse against women in football and society at large.
 
Barcelona Femení received the Medal of Honour not only for their on-field success but also for their broader impact on sport in Catalonia, particularly for girls.

Their achievements include four consecutive league titles, two of the last three Champions Leagues, and record-breaking attendance at the Spotify Camp Nou.

Despite some players' disputes with the RFEF, Barcelona players were well-represented at the World Cup in Australia and New Zealand, with eight players in the final.
 
The ongoing controversy surrounding Rubiales includes investigations by FIFA and Spain's top sports court (TAD), further underscoring the significance of the situation and the need for change within the sport and society.