Europe regains Ryder Cup in thrilling fashion in Rome
Posted : 01 October 2023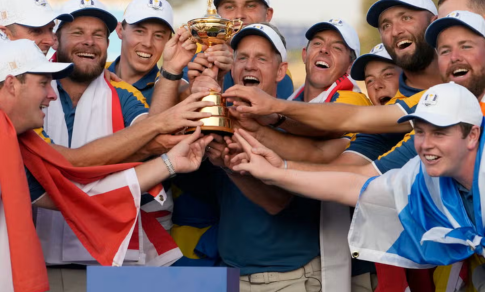 Europe regained the Ryder Cup in a thrilling fashion with a 16½-11½ victory over the United States in Rome. Europe's captain, Luke Donald, described the experience as a "rollercoaster of emotions."

The final day of singles matches began with Europe needing four points to secure victory. Tommy Fleetwood secured the 14½th point with a win in the 11th game, and Shane Lowry sealed the victory on the 18th green.

Luke Donald praised his team's resilience, emphasizing the importance of their strong performance in the first two days of the competition. The Europeans won both morning sessions 4-0 and 3-1 to build a substantial lead.

The top singles matches were stacked with Europe's best players, including world number three Jon Rahm, who faced top-ranked American Scottie Scheffler in a dramatic contest. Rahm secured a crucial half point to put Europe 12-6 ahead.

Rory McIlroy and Tyrrell Hatton added two more points for Europe, taking them to 14 points and on the brink of victory.

However, the search for the vital half-point proved challenging. Patrick Cantlay secured the first point for the United States, and they followed with the next three points.

Tommy Fleetwood then clinched the 14½th point, sparking jubilant celebrations among the European fans.

Bob MacIntyre secured point number 16, and Shane Lowry's match with Jordan Spieth ended all square, but by then, Europe had already reclaimed the Ryder Cup.

US captain Zach Johnson acknowledged Europe's great performance and shouldered the blame for their defeat, admitting to making poor decisions.

The victory marked a triumphant return of the Ryder Cup to European hands after their heavy loss in 2021.