Xavi praises Barcelona's best performance under his management in 5-0 victory over Antwerp
Posted : 20 September 2023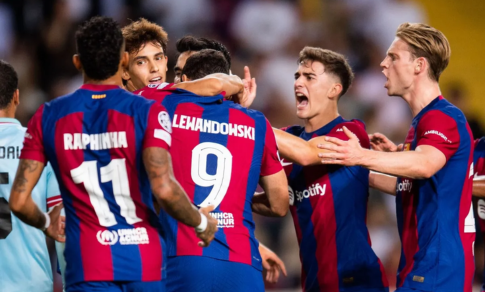 Barcelona, under the leadership of Xavi Hernandez, showcased their best football since he took over as manager with a resounding 5-0 victory against Antwerp in the Champions League. João Félix scored twice, joined by Robert Lewandowski, Gavi, and an own goal from Jelle Bataille. This triumph followed their 5-0 win over Real Betis just days earlier.
 
Xavi expressed his delight not only with the result but also with the team's performance. He highlighted that their strong play emerged around the 20th minute, as they gained control of the game, dominated possession, pressed effectively, and attacked with precision. Xavi credited the presence of Ilkay Gündogan, João Cancelo, and Félix for elevating the team's performance.
 
The recent signings of Félix and Cancelo played a pivotal role in Barcelona's recent victories. Félix's two goals against Antwerp and his assist for Lewandowski impressed Xavi, who commended his talent, humility, and ability to fit into their attacking style. Xavi emphasized the team's overall improvement and the positive impact of players like Gündogan.
 
While Barcelona's current form is a source of pride for Xavi, he stressed the importance of consistency and maintaining their hunger and focus. The immediate goal is to progress from the group stage, a task they struggled with in recent seasons.
 
Antwerp's coach, Mark van Bommel, acknowledged his team's initial strong performance but recognized the consequences of any lapse against a strong opponent like Barcelona. Despite the scoreline, he praised his team's effort and courage.
 
Barcelona's next Champions League match will be against Porto on October 4, and Xavi emphasized the need to stay focused and step up in upcoming challenges.