World's highest paid coaches: Trend of coaches seeking Gulf region riches
Posted : 29 August 2023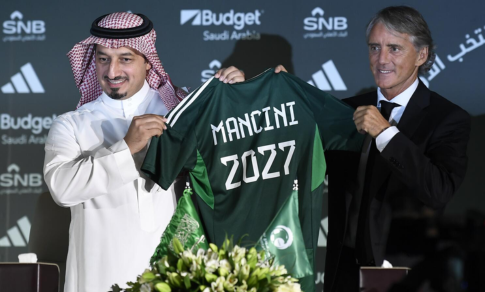 Roberto Mancini's departure from his role as the coach of the Italian national team has created ripples of surprise. Despite his triumph at Euro 2021 and the subsequent setback of failing to qualify for the 2022 World Cup, Mancini's exit resonates with the intrigue of unexpected decisions. His departure, spurred by the allure of Saudi Arabia's substantial salary offering, has propelled him to the upper echelons of the list of the world's highest-earning managers. While this move might appear unexpected, it mirrors the trend of coaches and players being drawn to the riches of the Gulf region.
 
Mancini's tenure with the Azzurri had been marked by a blend of successes and challenges. After steering the team to a victory at Euro 2021, his journey took an unexpected turn with the team's failure to secure a berth in the upcoming World Cup. This transition caught many off guard, especially considering the confidence he had garnered from the Italian Association. However, the intrigue lies in Saudi Arabia's significant financial proposition, which played a pivotal role in redirecting Mancini's career trajectory. As he embarks on this new chapter, he becomes one of the highest-paid coaches globally, an accolade that marks a significant turning point in his coaching journey.
 
In this dynamic landscape of football, financial prowess and managerial achievements intertwine to determine the rankings. As Mancini embraces his new role, the spotlight shifts to others who have ascended the ranks of football management:
 
10. Jose Mourinho (Roma, €9 million per year)
A seasoned campaigner with a portfolio adorned by numerous titles, Mourinho has journeyed through football's pinnacles. Despite encountering challenges during stints at Manchester United and Tottenham Hotspur, his venture into Italy with Roma has been marked by partial success, culminating in a triumph at the Conference League.
 
9. Simone Inzaghi (Inter, €10 million per year)
Guiding Inter after their championship win, Inzaghi's shoes were large to fill. However, his commendable efforts included a trophy and a place in the Champions League final, an achievement that resonates with his ninth position on the earnings chart.
 
8. Carlo Ancelotti (Real Madrid, €11 million per year)
A maestro of coaching, Ancelotti's illustrious career has embraced victories in various leagues and tournaments. His return to Real Madrid marked another chapter of his legacy, and his impending move to the Brazil national team is anticipated to be accompanied by a notable contract.
 
7. Thomas Tuchel (Bayern Munich, €12 million per year)
Tuchel's arrival at Bayern Munich sparked significant interest. Following his tenure at Chelsea, which featured an unexpected Champions League triumph, Tuchel has navigated the challenges of managing elite clubs, positioning him among the top earners.
 
6. Massimiliano Allegri (Juventus, €12.8 million per year)
Allegri's legacy at Juventus encompasses a series of triumphs, including domestic championships and Champions League finals. However, his return to the club has coincided with a period of decline, both on and off the field.
 
5. Steven Gerrard (Al Ittifaq, €17.6 million per year)
Gerrard's transition from a celebrated playing career to management has been met with mixed results. His time at Rangers revived the club's fortunes, followed by a challenging period at Aston Villa. The lure of Saudi league riches beckoned Gerrard to Al Ittifaq, accompanied by the prospect of a substantial salary.
 
4. Jurgen Klopp (Liverpool, €18 million per year)
Klopp's tenure at Liverpool has been transformative, revitalizing the club's fortunes with a Premier League title and a Champions League triumph. His extension until 2026 demonstrates the recognition of his contributions to the team's success.
 
3. Pep Guardiola (Manchester City, €22 million per year)
Guardiola's enduring commitment to Manchester City has reaped rewards, culminating in the club's first Champions League triumph. His contract extension until 2025 signifies his influence and the financial returns it generates.
 
2. Roberto Mancini (Saudi national team, €29.9 million per year)
Mancini's journey to Saudi Arabia reflects the growing trend of Gulf-based financial incentives for football personnel. Despite his achievements with the Italian national team, the allure of the Gulf's significant remuneration led him to the Saudi national team, making him the second highest-paid coach globally.
 
1. Diego Simeone (Atletico Madrid, €34 million per year)
Simeone's coaching style polarizes opinions, yet his impact on Atletico Madrid is undeniable. The Argentine has navigated a fierce league landscape to secure championships and Champions League final appearances. Despite speculation surrounding his future, his impressive earnings reflect his role in building and sustaining Atletico's legacy.
 
In this ever-evolving landscape of football management, financial rewards and sporting achievements interplay, shaping the trajectories of coaches across the globe.