VAR controversy Spurs referee replacements after Liverpool vs. Tottenham match
Posted : 01 October 2023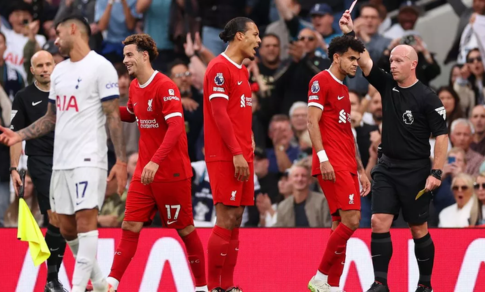 Darren England, who made an error as the video assistant referee (VAR) during Liverpool's defeat to Tottenham, has been replaced as the fourth official for the Nottingham Forest vs. Brentford Premier League game. His error involved failing to overturn an incorrect decision on the pitch, which disallowed a Luis Diaz goal for offside. Dan Cook, the assistant VAR for the same game, has also been replaced as the assistant referee for the Fulham vs. Chelsea match.

Craig Pawson will now take on England's duties as the fourth official at the City Ground, while Eddie Smart will replace Cook as assistant referee at Craven Cottage. The referees' body, PGMOL, confirmed these changes.

The error occurred when, at 0-0 with Liverpool down to 10 men, winger Luis Diaz's goal was disallowed on the field. England upheld the decision after a quick VAR check, which did not show the customary offside line graphic. A lapse of concentration around the initial decision led to a 'check complete' being confirmed instead of an intervention that would have awarded the goal.

The PGMOL acknowledged a significant human error and stated that the goal should have been awarded through VAR intervention.

Liverpool manager Jurgen Klopp expressed his frustration with the decision, describing it as "the most unfair circumstances" and emphasizing that the offside call was incorrect. He also referenced the apology Wolves received earlier in the season for a decision not to award a penalty.

Former England striker Alan Shearer called the VAR error "incomprehensible" and said it would cast doubt on future decisions. Liverpool had Curtis Jones sent off in a controversial manner, and Diogo Jota was also dismissed for two bookings during the game, which Tottenham won 2-1.

Tottenham manager Ange Postecoglou expressed his reservations about VAR, stating that he has not been a fan of it since its introduction because it complicates aspects of the game that were once clear. He acknowledged that VAR is not errorless and is subject to interpretation by human beings, emphasizing that perfection is unlikely.

In summary, Darren England's error as VAR during the Liverpool vs. Tottenham game has led to changes in officiating assignments for subsequent matches, while the incident has raised questions and concerns about the VAR system and its potential for errors in decision-making.