Transfer talks of August 31: Tottenham winger joins De Zerbi, Bayern Munich considers €93 million transfer
Posted : 31 August 2023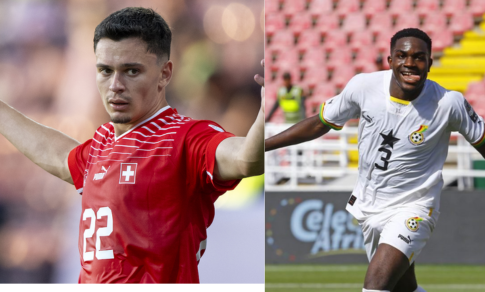 The nominated Tottenham winger is anticipated to join De Zerbi, while Bayern Munich is considering a €93 million payment for the Fulham standout. Cancelo's transfer to Barcelona is scheduled for today, and Liverpool is engaged in discussions with Grafenberch. Additionally, there's a noteworthy clause in Kylian Mbappé's Paris Saint-Germain contract.
 
Following his contribution in eliminating Maccabi Haifa during the Champions League qualifiers, Fabian Rieder made a move from Young Boys to Rennes, sealing a deal until 2027 for €15 million.
 
Lyon has secured the acquisition of 19-year-old Ghanaian striker Ernest Appiah Noama, procured from Belgian side Molenbeek, who had previously acquired him from Denmark's Nordsland. The player has been immediately loaned out to the French club, with a future purchase clause set at €25 million.
 
Karamoko Dembele, recognized as "Celtic's wonderkid," has transitioned from the English First Division to Blackpool. The 20-year-old had also played for French Brest last year, accumulating 15 appearances.
 
Leicester City's young left-back, Luke Thomas, has been loaned to Sheffield United for the designated period.
 
Bayern Munich's quest for a new midfielder continues, with the potential target being Joao Palhinha. Fulham, however, is seeking a substantial fee of at least €93 million for his acquisition.
 
Kylian Mbappé has acceded to an extension of his contract at Paris Saint-Germain until 2026, a decision influenced by the management, particularly Luis Campos. Notably, the contract incorporates a clause, regarded as personal and gentlemanly, which permits him to depart in the summer of 2024.
 
As the transfer window approaches its conclusion, Barcelona is striving to finalize the Joao Cancelo deal, with the Portuguese defender set to arrive in Barcelona today. Additionally, compatriot Joao Felix might also join the team.
 
Although Ansu Fati is departing Barcelona, reports diverge on his destination. Initially linked to Tottenham, it is now reported that Brighton has entered the picture, and Fati is expected to undergo medical assessments there. A loan move to Brighton is projected.
 
Liverpool's interest in Bayern Munich's midfielder Ryan Grafenberch has led to preliminary negotiations, as the player considers a move to Anfield. Bayern has set a price of €30 million, and there are indications that terms have been agreed upon after discussions with Jurgen Klopp.
 
Amid speculation about Mohamed Salah's potential move to Saudi Arabia's Al Etihad following a reported £110 million offer, Liverpool manager Jurgen Klopp clarified that the matter is closed and Salah remains at the club.
 
Saudi Arabia's Al Ittifaq, managed by Steven Gerrard, has submitted an offer to Paris Saint-Germain midfielder Jorginho Wijnaldum, who is receptive to the idea of the move.
 
Dean Henderson is expected to transfer to Crystal Palace, with Manchester United reportedly selling the goalkeeper for £20 million. He is said to have signed a five-year contract.
 
Donny van de Beek has rejected a move to French side Lorient, despite a loan agreement with Manchester United already in place. The Dutchman might instead join Real Sociedad, with Timo Bakayoko potentially filling his spot, having accepted the offer.