"The move to PSG wasn't something I wanted" - Messi
Posted : 18 August 2023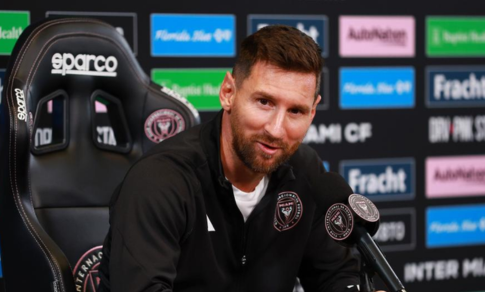 Leo Messi recently held his debut press conference as an Inter Miami player just before the League Cup Final against Nashville. The Argentine star expressed his excitement about the new experience and exceptional reception he has received from day one. He mentioned that winning the cup would be amazing for him, the fans, and the club, which is still striving to grow and become a formidable team. The support from the Miami community has been heartening, especially considering the relatively young age of the club.
 
Messi's unexpected departure from PSG after two seasons surprised many. He revealed that the move to Paris wasn't something he initially desired, and he had never contemplated leaving Barcelona. However, his current situation in Miami is vastly different, and he had to quickly adapt to a new environment in Paris. He emphasized that his current experience is much more positive.
 
Despite only playing six games for Inter Miami, Messi has already scored nine goals and is in excellent form. His decision to join the team was influenced by various factors, and he was motivated by his desire to play and enjoy football as he always has. The idea of being an ambassador for MLS didn't cross his mind; he simply wanted to relish this new experience and the exceptional reception he received.
 
Although Messi and his family have been in Miami for just over a month and are still adapting to the transition, he finds living there closer to the city and is thoroughly enjoying this new chapter in his life. He expressed his happiness about experiencing life in the United States, which has been a longtime aspiration.
 
Having led Argentina to victory in the World Cup, Messi is the frontrunner for another Ballon d'Or. He stated that he has achieved everything in football except winning the World Cup with his country, which has been his biggest dream. While the Ballon d'Or is significant, he values team titles more and is content with his current situation.