Striker with Super Eagles potential moves from Granada to Atletico Madrid
Posted : 22 August 2023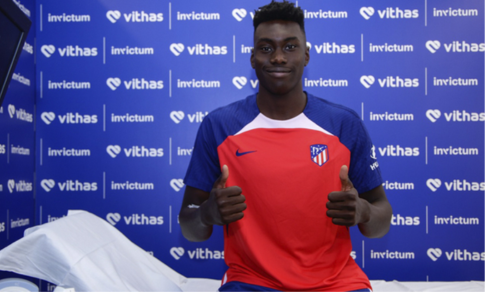 Nineteen-year-old striker Samuel Omorodion, who is eligible to represent the Super Eagles, has finalized a move to the illustrious Spanish La Liga powerhouse, Atletico Madrid.

Omorodion announced his arrival on the scene during Granada's opening match of the season against none other than Atletico Madrid. 

Making his debut in both the first team and La Liga, he exhibited an impressive performance on the field. 

His remarkable pace posed a significant challenge to Atleti's defense, culminating in a goal for Granada in the second half, countering Alvaro Morata's earlier strike for Atletico Madrid.

Acknowledging Omorodion's talents, Atletico Madrid has taken swift action to secure the budding talent. 

The striker has signed a five-year contract with Los Rojiblancos, following the activation of his €6 million release clause at Granada.

Born in Spain to Nigerian parents, Omorodion's international allegiance remains intriguing. Although he currently represents Spanish youth teams, his lack of senior appearances makes him eligible to play for the Super Eagles. 

As he joins Atleti, he is expected to embrace a complementary role this season, considering his limited experience in top-tier football. 

However, he will have the unique opportunity to learn from established strikers at the club, such as Memphis Depay and Alvaro Morata, as he seeks to develop his skills and make a lasting impact in the world of football.