Sports Minister Owan-Enoh to begin assessment meetings with all Sports Federations
Posted : 11 September 2023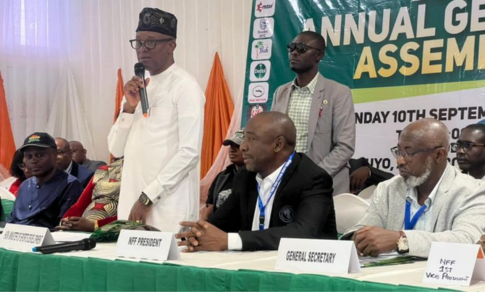 The Minister of Sports Development, Senator John Owan Enoh, will commence engagements with all sports federations in the country on Tuesday as he continues to holistically assess the state of affairs of all federations.
 
The efforts are part of a series of strategies the Sports Minister is employing to reposition sports in the country. He stated that part of the process will involve the withdrawal of all sports cases in court to make room for settlements that favour national interests and serve the interests of athletes.
 
"I have an open and neutral mind on the issue of sports cases that are in court."
 
"My meeting with all sports federations in the country will give me an opportunity to assess the federations one by one and see where there are disputes and also where there is normalcy."
 
"As a measure of goodwill and good faith, I will require that all disputes that are in court be withdrawn, so we can have a chance to resolve them as a ministry," he said.
The minister explained that when disputants are given an opportunity, it provides a window to resolve lingering issues in the interests of sport and for the love of country.
 
"We spend so much time amongst sports administrators and federations in disputes and forget the athletes, who are the critical actors, competing for laurels."
 
"Without the athletes, all of the disputes and fights will have no meaning," Enoh added.
 
He explained that his administration will focus on turning the tide, placing less emphasis on positions and offices and instead placing more attention on athletes and development.
 
"We cannot do the needful successfully (focus on athletes' progression) if we do not put our house in order."
 
"I am open and available to every suggestion and approach that can help us solve the teething problems and lingering issues we are confronted with and give us the result that we desire."

A fortnight ago, the minister informed the Permanent Secretary of the ministry, Alhaji Ismaila Abubakar, to direct all sports federations to submit a full report of their state of affairs to open the door for further engagements and evaluations, starting this week.