Sports Minister, Enoh decries state National Stadium, Surulere
Posted : 01 September 2023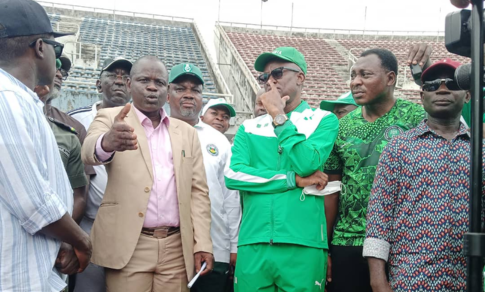 The Minister of Sport Development, Sen. John Enoh on Thursday affirmed that public-private partnership was key for sports development, appreciates investors as he decried the parlous state of the National Stadium Surulere Lagos.

Africa Sport Network (ASN) reports that as part of his ongoing efforts to assess the state of major sports facilities in the country, Sen. John Owan Enoh inspected the National Stadium, Surulere, Lagos on Thursday.

Senator Enoh started his inspection from the stadium complex, where he visited the National Institute of Sports, the boxing complex, mainbowl of the stadium, sports medical centre, indoor sports hall and other facilities.

He also inspected the Games Village hostels, Legacy Pitch, Power House, as well as the courts for different sports.

During his briefing at the stadium, John Enoh said "this facility built around the 1960's, has been put to use functionally, including during the 2nd All African Games (1973). It has gone through a lot."

"This should not be the symbol of our sports in a city referred to as a sports city," he added.

The Minister stated that he will do all it takes to bring back the glory of the facility, which was once the pride of Africa.

"I am glad that the process towards the concessioning of the facility has gone far. If that is what it will take to restore the glory of this facility, I endorse it 100 percent."

Enoh thanked private partners like Alhaji Aliko Dangote and Chief Kessington Adebutu for their contributions towards sports development in the country. He said Nigeria remain appreciative of their investments in uplifting sports facilities in the country.

Chief Adebutu partnered the Ministry in the revamp of some facilities at the National Stadium, Surulere, while Alhaji Dangote invested in works at the Moshood Abiola National Stadium, Abuja.

Enoh said the maintenance of the facilities is necessary, not to repeat the mistakes of the past, that resulted to decadent of infrastructure.

"We must be careful and make something happen quickly, so that the facilities we have working, don't fall into the same sorry state of shame."

He emphasized President Bola Ahmed Tinubu's commitments to sports development, stating that the President will continually give his support to sports, at all times.