Sevilla, Real Betis, and two other La Liga clubs eye Samu Omorodion from Atletico Madrid
Posted : 23 August 2023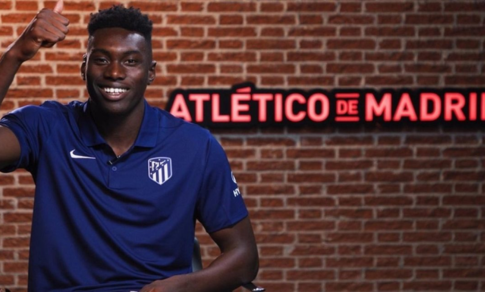 Real Betis, Sevilla, Alaves, and Celta Vigo, all Spanish La Liga clubs, have expressed interest in securing the services of Samuel Omorodion, an eligible Super Eagles striker, from Atletico Madrid during this summer transfer window.

Omorodion's move to Atletico was confirmed after a standout performance for Granada, where he scored on his debut against Atletico in their 3-1 loss, impressing despite the defeat. 

The 19-year-old had already showcased his potential by netting 18 goals in 33 games for Granada B in the previous season, making him the top scorer in the league.

Despite his talent, Omorodion might face limited playing time at Atletico Madrid due to the presence of established forwards like Alvaro Morata, Memphis Depay, and Antoine Griezmann. 

With an eye on his development, Atletico might prefer to loan him out to ensure he gains more experience and further hones his skills.

The likes of Sevilla, Real Betis, Celta Vigo, and Alaves have shown interest in acquiring Omorodion on loan, as reported by Sito Fernandez. 

However, Atletico is yet to make a final decision on his future, and his participation in a friendly match against Numancia might influence the outcome. 

Born in Spain to Nigerian parents, Omorodion's eligibility to play for either country remains, as he has not yet represented the senior team of either nation.