Rivers United player, Korvah emerges NPFL Best Foreign Player Award
Posted : 24 August 2023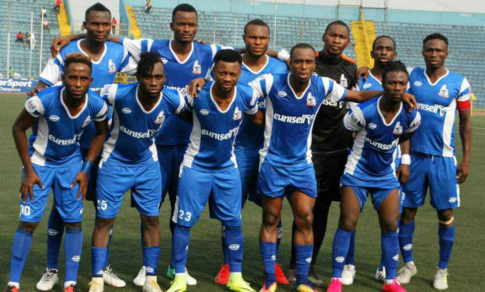 Rivers United forward, Albert Korvah, has been named the best foreign player of the 2022/23 Nigeria Professional Football League (NPFL) season.

Korvah was announced as the winner at the League Bloggers Award ceremony held in Lagos.

The forward played a vital role for the Port Harcourt-based side, helping them to finish third in last season's Super Six Playoffs.

The Liberian, who joined the Pride of Rivers from Liberia Premier League club Watanga FC in 2022, registered three goals for the former NPFL champions.

Meanwhile, the Liberia Football Association (LFA) has invited the reigning NPFL Best Foreign Player to the national team for upcoming fixtures which the Lone Stars are scheduled to face.

The Liberian football governing body made this known in a letter sent to Rivers United while also congratulating Albert Korvah for his latest achievement.

"The Liberia Football Association (LFA) present it compliments and invites player Albert Kolvah of your club for the Total Energies AFCON qualifying match against Morocco in Agadir on Saturday, 9 September 2023 and for an International Friendly match against the Black Stars of Ghana on Tuesday, 12 September 2023 in Accra, Ghana.

"In view thereof, the LFA kindly requests that the player Korvah be allowed to depart Port Harcourt on Wednesday,  Sept. 6  and return on Wednesday,  Sept. 13.

The LFA regrets any inconvenience this may cause you, as the presence of the player is highly appreciated." The letter stated.

Rivers United have six foreign players in their team, with the recent arrival of Yao Kouassi.