Richarlison vows to bounce back stronger for Tottenham after turbulent time
Posted : 13 September 2023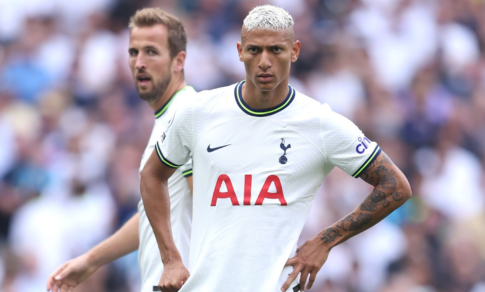 Richarlison expressed confidence in his ability to have a much-improved second season with Tottenham, attributing his previous poor form to a "turbulent time off the field" and stating that "the storm has passed."

The Brazilian forward, who recently started in his national team's 1-0 victory over Peru, revealed his intention to work with a psychologist upon returning to England to "come back stronger."

Richarlison shared with Globo, "I went through a turbulent time in the last five months off the field. People who only had an eye on my money walked away from me. Now things will start to flow, I'm sure I'll get a good run at Tottenham and make things happen again ... I will continue to focus on the club, the storm has passed."

Despite making four Premier League appearances for Spurs this season, the 26-year-old has yet to score.

Reflecting on a moment when he was seen crying on the bench after being substituted during Brazil's 5-1 win over Bolivia on September 8, Richarlison clarified, "That sad moment wasn't even because I played poorly. In my opinion, I didn't play a bad game in Belém. It was more of an outburst about the things that were happening off the field, which got out of control, not on my part, but on the part of people who were close to me."

He added that he plans to return to England, seek assistance from a psychologist, and work on his mental well-being. Richarlison is determined to regain his form and earn a spot in the next Brazil squad, with a focus on performing well for Tottenham.

Tottenham's upcoming matches include a home fixture against Sheffield United on Saturday and an away clash with Arsenal at the Emirates on September 24.