Real Madrid loans out winger eligible for Super Eagles
Posted : 16 August 2023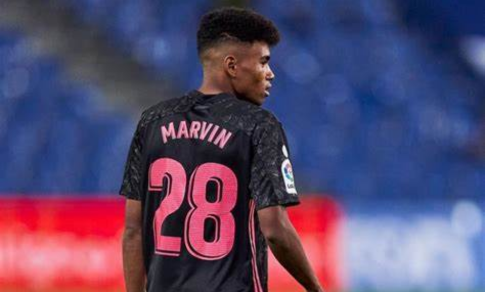 Real Madrid has decided to loan out Marvin Akinlabi Park, a winger of Nigerian descent born in Spain, to La Liga newcomers Unión Deportiva Las Palmas. 

The President of Unión Deportiva Las Palmas, Miguel Angel Ramirez Alonso, has officially confirmed that Akinlabi has successfully passed a medical examination and has already commenced training within the Barranco Seco training facilities. 

Akinlabi's loan agreement spans the entirety of the 2023-2024 season, and it comes with a mandatory purchase option included in the deal. 

This purchase option will be activated if Unión Deportiva Las Palmas manages to secure their place in La Liga at the end of the current campaign. 

Born to a Nigerian father and a South Korean mother, Akinlabi is no stranger to Las Palmas, as this marks his second loan spell with the club.

 Last season, his contributions played a pivotal role in helping Las Palmas secure their promotion to the top-flight league. 

He made 24 appearances in LaLiga SmartBank, scoring one goal and providing an assist.

According to quotes relayed by udlaspalmas.net, Ramirez stated, "We already have Marvin Park training in Barranco Seco. We will make it public today. He has already undergone a medical check-up, and although he is slightly injured due to an ankle injury sustained during training in Madrid, he needs time to recover. Today, we will officially announce the agreement, and I expect him to be ready to present himself tomorrow." 

This move marks a continuation of Akinlabi's professional development and a new chapter in his journey within the world of football.